Ma urges peaceful resolution to Okinotori atoll dispute
President Ma Ying-jeou (馬英九) yesterday reiterated during a meeting with a visiting Japanese politician that Taiwan hopes to seek international arbitration on the Okinotori atoll dispute.
Ma told Japanese Legislator Nobuo Kishi that if Taiwan and Japan cannot solve their dispute over the atoll, the two sides should submit the dispute to international mediation and arbitration.
Over the past eight years, relations between Taiwan and Japan have been the best they have ever been since the two nations severed formal diplomatic ties in 1972, Ma said.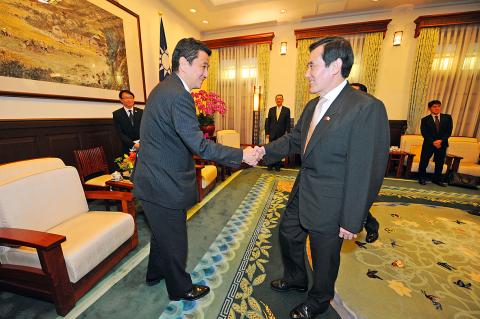 President Ma Ying-jeou, right, yesterday shakes hands with Liberal Democratic Party member of Japan's House of Councilors Nobuo Kishi in the Presidential Office in Taipei.
Photo: CNA
However, Japan's detention of the Taiwanese fishing boat Tung Sheng Chi No. 16 "could have some negative influence on this relationship," Ma said.
After the boat was detained by the Japan Coast Guard near the Okinotori atoll on Monday last week, Japan demanded a security deposit to release the boat and its crew, and handcuffed and strip-searched the boat's captain, Ma said.
"Taiwanese are shocked and angered by these actions," Ma said.
Okinotori is only 9m2 and its two reefs are only 16cm above sea level, which means that it has no fresh water and is unable to sustain human habitation or economic life, he said.
He cited Article 121 of the UN Convention on the Law of the Sea as saying that reefs that cannot sustain human habitation or economic life are not entitled to an exclusive economic zone.
Despite this, Japan claims a 200 nautical mile (370km) exclusive economic zone around the atoll.
Two Taiwanese patrol boats yesterday reached international waters near Okinotori in an effort to increase protection of Taiwanese fishermen operating in the area, the Coast Guard Administration (CGA) said.
With official vessels from both Taiwan and Japan near Okinotori, Ma said he hopes the two sides restrain themselves and avoid conflict that could affect friendly relations between the two nations.
The CGA said that when encountering Japanese patrol boats, it would adhere to the principles of no provocative action, no confrontation and no evasion.
However, if any Japanese patrol boats attempt to approach Taiwanese fishing vessels operating near Okinotori, the coast guard would take immediate action to ensure the safety of the fishermen, which could include dispersing any Japanese vessels, it said.
The CGA said it has not ruled out dispatching more vessels to waters near Okinotori to protect Taiwanese fishing boats.
Comments will be moderated. Keep comments relevant to the article. Remarks containing abusive and obscene language, personal attacks of any kind or promotion will be removed and the user banned. Final decision will be at the discretion of the Taipei Times.