'Temporary' plan for nuclear waste slammed
MAJOR RISK: Critics said Taipower's idea of storing waste at the Jinshan plant for 40 years would endanger local residents, as waste containers can corrode
Taiwan Power Co (Taipower, 台電) yesterday said it plans to temporarily store Jinshan Nuclear Power Plant's used fuel rods at the facility for several decades as it works to find a more permanent repository site for the radioactive waste, an announcement that was quickly criticized by environmentalists and local residents.
The company made the announcement after the Chinese-language Apple Daily yesterday reported that the utility wanted to establish a temporary repository at the plant in New Taipei City's Shimen District (石門) to store 5,720 bundles of used fuel rods and more than 60,000 drums of low-level radioactive waste after the plant is decommissioned in 2019.
"It is only temporary. Although we could store the radioactive waste in dry storage at the plant for 40 years in accordance with international conventions, we do not plan to put it there for that long," Taipower nuclear energy section spokesman Lin Te-fu (林德福) told the Taipei Times.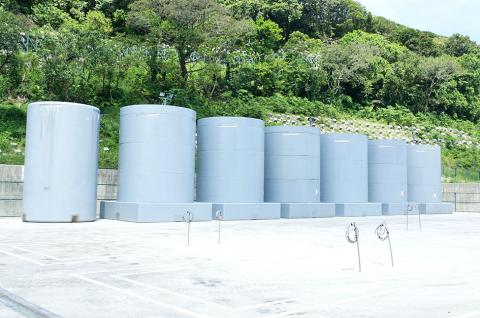 A dry storage facility for radioactive waste at Taiwan Power Co's Jinshan Nuclear Power Plant in New Taipei City's Shimen District is pictured in May last year.
Photo: Chen Wei-tsung, Taipei Times
Taipower's retirement proposal for Jinshan, which was submitted to the Atomic Energy Council in November last year, would see the plant's No. 1 reactor shut down in December 2018 and the No. 2 reactor shuttered the following July, Lin said.
The company has proposed spending NT$18.2 billion (US$544.32 million) over 25 years to completely shutter the plant after the reactors are shut down, with eight years spent on reducing nuclear contamination, 12 years to dismantle the plant's buildings and facilities, and three years to monitor the radioactive level of the surrounding area, he said.
Taipower plans to build a 8,200m2 dry storage unit for high-level radioactive waste and a 5,000m2 low-level radioactive waste storage unit in the southwestern section of the plant site as a temporary measure, he said.
The company is trying to gain public support to build a permanent central radioactive waste storage facility on an uninhabited island, he said, adding that the company plans to submit a feasibility report on its central waste storage proposal to the government by September.
Shimen District residents and environmentalists said Taipower's temporary waste storage plan would endanger the 7 million people living in the greater Taipei area.
Northern Coast Anti-Nuclear Action Alliance chief executive Kuo Ching-lin (郭慶霖), who lives near the plant, said the Jinshan facility and the Guosheng Nuclear Power Plant in Wanli District (萬里) have been running for about 40 years, and residents must be consulted about keeping nuclear waste in the area for another 40 years.
"Even if the company wants to store radioactive waste at nuclear plants, it could not be done without having an open and transparent dialogue with local residents. We do not want to become another Orchid Island [Lanyu, (蘭嶼)]," Kuo said.
"Pollution remediation and land reutilization are the most important things following the plants' deactivation, and we hope that Taipower is determined to help revitalize the local economy that has withered because of the nuclear plants," Kuo said.
Green Citizens' Action Alliance secretary-general Tsuei Su-hsin (崔愫欣) said the storage proposal poses a long-term health risk because dry storage casks might corrode and crack due to exposure to the elements.
"Nuclear plants can only be used as interim repositories, because they are not designed to hold radioactive wastes that have half-lives of more than 10,000 years. Selection of a permanent site is an urgent issue that everyone must face up to," Tsuei said.
Atomic Energy Council Minister Chou Yuan-ching (周源卿) yesterday told lawmakers during a question-and-answer session at the Legislative Yuan that the council forwarded Taipower's proposal to the New Taipei City Government earlier this year to be publicly announced.
However, New Taipei City Mayor Eric Chu (朱立倫) said he would not approve the plan and that the city could not become a nuclear waste storage site that would pose a risk to greater Taipei area residents.
Comments will be moderated. Keep comments relevant to the article. Remarks containing abusive and obscene language, personal attacks of any kind or promotion will be removed and the user banned. Final decision will be at the discretion of the Taipei Times.