Tsai urges MAC to clarify transit offer
FREEDOM OF SPEECH: The DPP chairperson said authorities in Hong Kong and China owe a clear explanation about the disappearance of five men linked to a publisher
Democratic Progressive Party (DPP) presidential candidate Tsai Ing-wen (蔡英文) yesterday urged the Mainland Affairs Council (MAC) to provide a detailed explanation of China's limited transit flight proposal.
"Issues regarding cross-strait exchanges should be subjected to full-scale negotiations. I would take them in my stride if they have been through a democratic procedure and handled with equality and dignity," Tsai said on the sidelines of a Taipei campaign event for DPP legislative candidate Rosalia Wu (吳思瑤).
If other matters were involved in the negotiations on the transit plan, the council should provide the public with a detailed account of the negotiations, she said.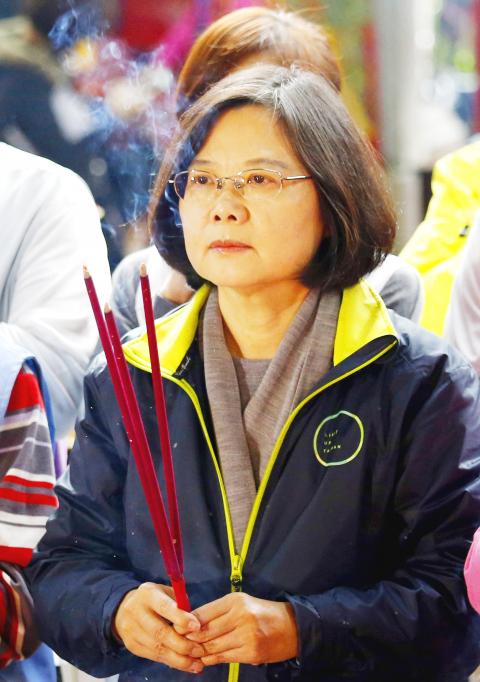 Democratic Progressive Party presidential candidate Tsai Ing-wen, center, yesterday prays at a temple in Taipei's Beitou District.
Photo: Wally Santana, AP
Xinhua news agency on Tuesday carried an announcement from China's Taiwan Affairs Office that residents of three Chinese cities — Chongqing, Kunming and Nanchang — would be allowed to transit through Taiwan Taoyuan International Airport for flights to a third nation, although a starting date was not given.
The council hailed the announcement as the result of President Ma Ying-jeou's (馬英九) meeting with Chinese President Xi Jinping (習近平) in Singapore on Nov. 7 last year, and said it hoped the plan would be expanded to cover all Chinese travelers in the near future.
Asked whether the timing of China's announcement was suspicious, coming so close to the presidential and legislative elections, Tsai said: "I will treat the matter with an ordinary mind."
Cross-strait negotiations on the transit issue had been dragging, reportedly due to Beijing's insistence that Taipei allow Chinese airlines to fly over the midline of the Taiwan Strait in return for a deal on Taoyuan transits.
Turning to the reported disappearances of five men associated with a Hong Kong-based publishing house, Mighty Current (巨流), known for books critical of the Chinese Communist Party leadership, Tsai said the Hong Kong and Chinese governments should give the public a clear explanation of what has happened to the men and adopt concrete measures to ensure freedom of speech for Hong Kong residents.
The disappearances have triggered protests in Hong Kong, as it is widely believed that the five might have been seized by Chinese law enforcement agents, as the publishing house is reportedly scheduled to release a book about a former girlfriend of Xi's.
"This case concerns freedom of expression, which is highly valued by Taiwanese, because Taiwan went through a very difficult period to win our freedom of speech," Tsai said.
Tsai said the nation's history has made Taiwanese particularly concerned about whether freedom of speech is protected in other areas and countries.
Freedom of speech is a universal value, Tsai said.
Comments will be moderated. Keep comments relevant to the article. Remarks containing abusive and obscene language, personal attacks of any kind or promotion will be removed and the user banned. Final decision will be at the discretion of the Taipei Times.