Tsai touts energy policies at forum
Democratic Progressive Party (DPP) presidential candidate Tsai Ing-wen (蔡英文) yesterday told business leaders that her team has prepared extensive energy polices, including the formation of a Cabinet task force to avert any power shortage risks over the next few years.
Tsai made the remarks at her first large-scale discussion with the nation's six major industrial groups, including the Chinese National Federation of Industries (工總) and the Taiwan Electrical and Electronic Manufacturers' Association (電電公會).
Yesterday's meeting was the first forum arranged by industrial groups to discuss insights about relations with China and economic policies with candidates of the three Jan. 16 presidential election tickets.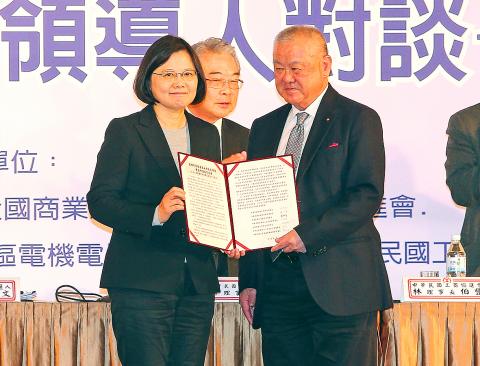 Chinese National Association of Industry and Commerce chairman Lin Por-fong, right, presents Democratic Progressive Party presidential candidate Tsai Ing-wen, left, with a statement from the association regarding its hopes for the nation's future leader after attending the Taiwan Economic Development Forum at the Howard Plaza Hotel in Taipei yesterday.
Photo: CNA
Of the 13 key issues of concern to local industries, how to maintain a stable supply of power topped the list, as Taiwan faces an imminent risk of power supply constraints next year, which could leave companies' operations in dire condition.
Tsai said she did not expect the nation to suffer from power shortages over the next few years if state-run Taiwan Power Co (Taipower, 台電) can fully carry out its power capacity expansion plans.
A Taipower assessment said the nation could face power shortages, as the company estimates its reserve energy capacity could fall from an estimate of 10.4 percent this year to less than 10 percent of the nation's needs at peak times next year.
"Our goal is to keep reserve energy capacity above 7.5 percent, which would help us avoid power rationing," Tsai said.
It is critical for the government to manage power capacity, boost power efficiency, create "green" energy solutions and save energy, Tsai said.
If elected as the nation's president, Tsai said that she plans to boost the government's role in tackling energy problems by setting up a task force under the Cabinet.
The Environmental Protection Administration is currently in charge of drawing energy polices.
The task force would be responsible for making energy policies on cutting carbon emissions to meet global standards and reducing energy consumption during peak hours in summer, Tsai said.
The US reduced electricity consumption by 9.2 percent after it, in 2013, implemented electricity rates that favor energy use during off-peak hours and plans to further reduce power consumption by 20 percent by 2020, Tsai said.
The specially designated panel would be in charge of promoting "green" energy, such as solar power; liberalizing the electricity sector; and saving energy, she added.
Expanding the use of smart meters from industrial users to common households and increasing use of energy-efficient equipment and lighting would also be on her agenda, Tsai said.
Talking about her policies on cross-strait relations, Tsai said that she would keep "stable" ties with China.
"Maintaining the 'status quo' is my primary and most important direction," Tsai said.
Taiwan is a democratic nation, Tsai said, adding that she would be following the public's will by maintaining the "status quo," without blending any political party's ideology.
When tackling cross-strait issues, "we will try not to provoke [China]. We will try to communicate with [China]. We do not expect to see anything unexpected. We want to keep relations stable," Tsai said.
Comments will be moderated. Keep comments relevant to the article. Remarks containing abusive and obscene language, personal attacks of any kind or promotion will be removed and the user banned. Final decision will be at the discretion of the Taipei Times.