Wang vows to move out of controversial housing
'HIGHER MORAL STANDARD': Wang said she did nothing wrong, but must live up to expectations, while a woman denied Wang cheated her husband in a land deal
Chinese Nationalist Party (KMT) vice presidential candidate Jennifer Wang (王如玄) yesterday pledged to move out of the government dormitory in which she and her husband have been living for a decade as soon as possible, as the controversy surrounding her real-estate dealings continues to snowball.
"The faculty dormitory we have been living in was applied for in accordance with the regulations and our residence there is legal," Wang told reporters yesterday morning.
As a human-rights attorney, Wang said her decisions are based on legal reasoning, but that she understood a vice presidential candidate would be subjected to a higher moral standard.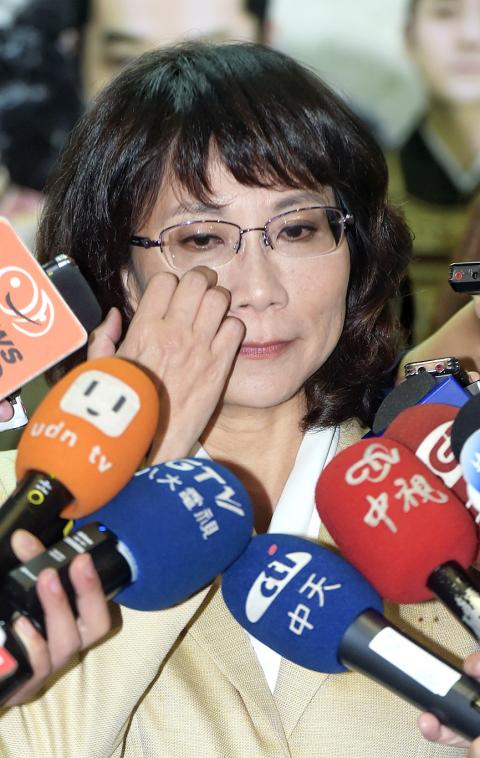 Chinese Nationalist Party (KMT) presidential candidate Eric Chu shakes the hands of supporters while campaigning yesterday in Taoyuan.
Photo: Lee Jung-ping, Taipei Times
"Now I know the public's perception is equally important and I am willing to hold myself to the highest moral standards," she said. "I will move out of the faculty dormitory at the earliest date possible."
Wang made the announcement after Democratic Progressive Party (DPP) Legislator Tuan Yi-kang (段宜康) repeatedly challenged the legitimacy of the couple's residence at a Taiwan High Prosecutors' Office unit in Taipei's Daan District (大安).
Tuan said a military apartment in New Taipei City's Banciao District (板橋) registered under the name of Wang's husband, Judicial Yuan Department of Government Ethics Director Huang Tung-hsun (黃東焄), should have made him ineligible to apply for a government dorm.
The wife of a landowner surnamed Hsiao speaks to reporters yesterday in Miaoli County's Nanjhuang Township concerning allegations that Chinese Nationalist Party (KMT) vice presidential candidate Jennifer Wang forced Hsiao to buy back a hillside plot of land he previously sold to Wang.
Photo: CNA
Wang downplayed allegations made by Tuan on Tuesday evening on a political talk show that Wang also owned an apartment converted from old housing for military dependents in Taipei's Xinyi District (信義), one of the city's most expensive districts.
Wang has said that her family has three military housing units, with her sister, mother and husband owning one each.
Military apartments are converted from old housing for veterans and their families.
Such residences are generally allocated or sold to military personnel or their dependents at a price below market value. To avoid speculation on such apartments, regulations bar owners from selling the unit within five years of registering such a property.
However, some real-estate agencies have exploited legal loopholes, encouraging owners and buyers to sign a sales contract ahead of the expiration of the five-year ban.
"I encountered many investment opportunities when I was a lawyer. I was just a private individual back then and had never thought that I would one day enter politics," Wang said.
The former Council of Labor Affairs minister accused Tuan of attempting to obscure the focus of the campaign, saying what really mattered should be whether she had exploited her position at the council to make a profit.
Wang said that many people have associated the military housing controversy with a 2011 scandal involving then-DPP vice presidential candidate Su Jia-chyuan (蘇嘉全), who was accused of illegally constructing a luxury farmhouse on agricultural land without engaging in any agricultural activities.
"However, unlike Su, whose contentious conduct was while he served as Pingtung County commissioner, minister of the interior and chairman of the Council of Agriculture, I have made public every asset I acquired since I assumed the ministership in 2009 and nothing I did during my four-and-a-half-year tenure was problematic," Wang said.
No illegal conduct was involved in any of the property purchases I have made, nor do they reflect any moral defects, she added.
Wang said that she would not respond to each of Tuan's accusations, as on Wednesday she released a list of all the assets in her and her husband's names, which showed them owning four plots of land and seven homes, as well as having NT$28.59 million (US$874,285) in savings.
The assets included Huang's Banciao military apartment and a unit in Yilan County's Jiaosi Township (礁溪), which is reportedly in a prime area.
"Just think about this: Is it reasonable for a veteran lawyer and a prosecutor to own what we own after working diligently for the past 30 years?" Wang said.
In related news, the wife of a man surnamed Hsiao (蕭) yesterday rejected KMT Legislator Lo Shu-lei's (羅淑蕾) allegations that following the emergence of the Su scandal, Wang forced Hsiao to buy back hillside land in Miaoli County's Nanjhuang Township (南庄) that he had sold to Wang, but at a far higher price than in the previous deal.
"Wang was a lawyer when she bought the land ... but she later assumed a minister's post. Due to the busy schedules of her new job and the lack of adequate medical resources in Nanjhuang that her elderly father-in-law might need, she sold the land back to my husband," Hsiao's wife said.
She said her husband bought back the property at a price that included the original price and the money Wang had spent preparing the land, adding that it was definitely less than what Lo claimed.
KMT presidential candidate Eric Chu's (朱立倫) campaign spokesman Lee Cheng-hao (李正皓) on Wednesday said that the land was purchased in 2007 by Wang's father-in-law, who spent some money on soil conservation measures.
"Wang's father-in-law asked Hsiao to buy back the land only after discovering that Hsiao had engaged in illegal exploitation, including dumping waste into a stream," Lee said.
Additional reporting by Tsai Cheng-min and Cheng Hung-ta
Comments will be moderated. Keep comments relevant to the article. Remarks containing abusive and obscene language, personal attacks of any kind or promotion will be removed and the user banned. Final decision will be at the discretion of the Taipei Times.