Taipei prosecutors drop Eric Chu case
'SLOPPY': Chou Ni-an of the TSU said that prosecutors should have raided KMT headquarters and Hung Hsiu-chu's campaign office and confiscated the computers
Taipei prosecutors yesterday announced that Chinese Nationalist Party (KMT) Chairman Eric Chu (朱立倫) and KMT Secretary-General Lee Shu-chuan (李四川) would not be indicted on accusations that they paid NT$30 million (US$916,590) to former KMT presidential candidate Hung Hsiu-chu (洪秀柱) in exchange for Hung dropping out of the presidential race.
Citing a lack of clear evidence of criminal intent by the defendants, prosecutors said no indictment would be laid against Chu and Lee, at a press briefing held by the Taipei District Prosecutors' Office and the Special Investigation Division (SID) of the Supreme Prosecutors' Office.
The investigation had uncovered that the KMT did issue a Bank SinoPac check for NT$30 million, dated Sept. 30 and payable to Hung's campaign office account, but that "it was the party's subsidy for Hung's election campaign," Deputy Chief Prosecutor Chang Chieh-chin (張介欽) said.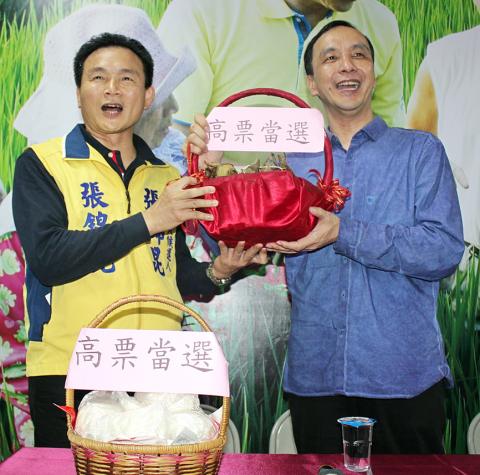 Chinese Nationalist Party (KMT) presidential candidate Eric Chu, right, shows his support for KMT legislative candidate Chang Chin-kun in Changhua County's Yuanlin Township yesterday.
Photo: Chen Kuan-pei, Taipei Times
Prosecutors said they found no evidence of an audio recording of a private meeting called by Chu and Lee to talk to Hung about "exchange conditions," as well as no evidence of the KMT offering to pay Hung NT$500 million to quit the race.
Hung was replaced as the party's presidential candidate and replaced by Chu at a hastily arranged party congress on Oct. 17. Political circles were rife with allegations that the KMT used a financial inducement and the promise of a high posting to entice Hung to accept being replaced.
Opposition legislators filed charges against Chu and Lee for being in terms of Article 84 of the Presidential and Vice Presidential Election and Recall Act (總統副總統選舉罷免法).
Following the decision not to prosecute the case, the Democratic Progressive Party (DPP) denounced what it called political interference in the justice system and said that prosecutors had hastily dropped the probe ahead of today's meeting between President Ma Ying-jeou (馬英九) and Chinese President Xi Jinping (習近平) in Singapore, and Chu's visit to the US next week.
"Prosecutors tend to complete their investigations into cases involving the ruling party especially quickly. There seems to have been no exception in this case," DPP presidential candidate Tsai Ing-wen (蔡英文) said.
"It took the SID a mere 18 days to wrap up the investigation and drop the case, but there are still plenty of holes in the prosecutors' statement and many questions remain unanswered," DPP Legislator Chen Chi-mai (陳其邁) said.
"We can see the SID has come under Ma's personal control and turned into a 'rubber stamp' judicial unit for the KMT. This shows that if someone carries a KMT membership card, then they become invincible," Chen said.
Taiwan Solidarity Union (TSU) Legislator Chou Ni-an (周倪安) accused the SID of carrying out the investigation in a sloppy manner.
"The case was wrapped up so rapidly, they did not carefully examine all the evidence and called only a few witnesses. It showed that investigators did not want to conduct a thorough probe. I urge prosecutors not to become a political wing of the ruling party," Chou said.
At the very least, the investigators should have raided KMT headquarters and Hung's campaign office in Taipei, and confiscated computers, audio tapes and other equipment to search for evidence, Chou said.
Comments will be moderated. Keep comments relevant to the article. Remarks containing abusive and obscene language, personal attacks of any kind or promotion will be removed and the user banned. Final decision will be at the discretion of the Taipei Times.