Xi talks for Taiwanese well-being: Ma
HIT A NERVE: Ma Ying-jeou lost his cool when asked about Tsai Ing-wen's criticism of the meeting, saying: 'I have never understood what she is talking about'
President Ma Ying-jeou (馬英九) said yesterday that his decision to meet with Chinese President Xi Jinping (習近平) in Singapore tomorrow was not prompted by electoral factors, but by his determination to ensure the welfare and happiness of the future generations of Taiwanese.
Ma made the remarks at an international press conference held at the Presidential Office yesterday morning, responding to reporters' questions on whether the unprecedented Ma-Xi meeting was merely part of his efforts to etch his name in the history books and if it would shackle the nation's development.
The press conference was packed with local and foreign reporters eager to learn details of the first official meeting between the leaders of the two sides of the Taiwan Strait since the Chinese Nationalist Party's (KMT) 1949 retreat to Taiwan after the Chinese Civil War.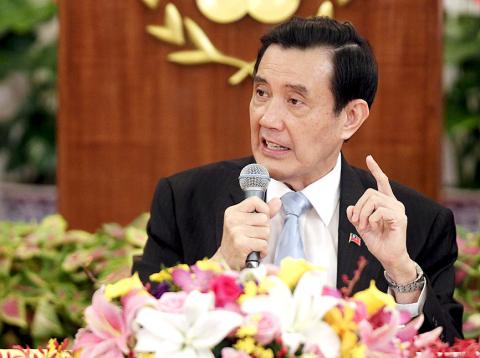 President Ma Ying-jeou gestures while answering a question during a news conference at the Presidential Office in Taipei yesterday.
Photo: Pichi Chuang, Reuters
"The Ma-Xi meeting will have a positive impact on Taiwan, China and the entire world, as evidenced by the international community's general welcoming attitude to the summit," Ma said.
Ma said what led him to agree to the meeting was not the approaching presidential and legislative elections on Jan. 16 — which the KMT presidential candidate seems likely to lose — but the well-being of Taiwanese.
Hopefully, the meeting would open doors and create a platform for regular meetings between cross-strait leaders, regardless of who is in power, Ma said.
Ma lost his temper briefly when asked by a reporter to comment on Democratic Progressive Party (DPP) presidential candidate Tsai Ing-wen's (蔡英文) criticism that the Ma-Xi meeting would be detrimental to Taiwanese democracy.
"I have never understood what she is talking about. Where have I hurt Taiwan's democracy?" he said.
Ma also defended his failure to honor a pledge he made during his re-election campaign in 2011 not to meet with the Chinese leader if he won a second term.
"I only said what I said because a meeting of cross-strait leaders at the time would require the leader [of Taiwan] to meet his counterparts in China. What I really meant was that I would not go to the other side of the Taiwan Strait, which would naturally make such a meeting impossible, but since we are meeting in a third location, it should not be a problem," Ma said.
Turning to criticism that he should not have pushed for such a significant cross-strait development with only six months left of his presidential term, Ma said it would constitute a dereliction of duty on his part if he failed to do what was good for the next generation.
"As long as I am president, I must not shirk my responsibility of doing my duty. Should there be dissenting voices from the public, I am willing to communicate with them," Ma said.
The president also shrugged off concerns about the closed-door nature of tomorrow's meeting, saying there would be time for reporters to ask questions before the meeting, as well as a press conference and press release afterward.
That is the highest degree of openness that can be afforded to a meeting at such a level, Ma said, adding that no under-the-table agreements or promises would be made during the meeting.
"We will do our utmost to ensure openness and transparency, while maintaining dignity and equality during the process," Ma added.
Ma said he and Xi would talk about cross-strait peace frameworks, Taiwan's international space and economic development across the Taiwan Strait.
Also to be discussed during the meeting is China's military threat against Taiwan and Taipei's predicaments in its participation of international events, Ma said.
Ma said that he has not ruled out bringing up issues regarding the eight-year war against Japan, but would not touch upon territorial disputes in the South China Sea.
Asked about a cross-strait peace agreement, Ma said: "We would not promote such an agreement unless polls indicate that it is backed by the public."
He said 23 cross-strait pacts have been signed by his administration, which could be deemed peace treaties in a broad sense, as they would not have been signed were it not for cross-strait peace.
Prompted by a badge featuring the national flag on Ma's suit, a reporter asked the president whether he would wear it during his meeting with Xi.
"No I will not, because it certainly would be awkward if he also wears one depicting China's national flag," Ma said.
Comments will be moderated. Keep comments relevant to the article. Remarks containing abusive and obscene language, personal attacks of any kind or promotion will be removed and the user banned. Final decision will be at the discretion of the Taipei Times.