Poll finds majority disagree with KMT ousting Hung
Nearly six out of 10 voters disagree with the Chinese Nationalist Party's (KMT) plan to oust Deputy Legislative Speaker Hung Hsiu-chu (洪秀柱) as its presidential candidate, according to a survey released by the Cross-Strait Policy Association (CSPA) yesterday, with nearly 70 percent saying KMT Chairman Eric Chu (朱立倫) would not win the election even if he manages to squeeze out Hung.
The survey, conducted on Tuesday and Wednesday among people aged 20 or older, showed that 59.6 percent of respondents find the KMT's plan to revoke Hung's nomination at an extempore party congress unreasonable, compared with only 15.3 percent who support the plan.
Even among those identifying themselves as pan-blue supporters, 62.1 percent said they disapprove of having Hung removed as the KMT's candidate in such a manner.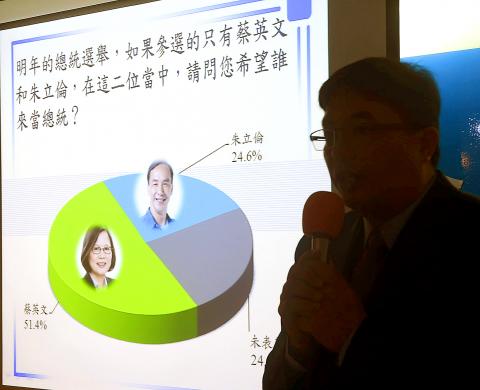 A representative of the Cross-Strait Policy Association, a political think tank, yesterday announces the results of an opinion poll following reports that Chinese Nationalist Party (KMT) presidential candidate Hung Hsiu-chu is to be replaced by KMT Chairman Eric Chu.
Photo: Fang Pin-chao, Taipei Times
In an unexpected result for the KMT leadership, which has cited Hung's dismal support ratings and pro-unification cross-strait stance as the reasons for wanting to force her out, the majority — or 75.8 percent — of respondents believe the KMT is responsible for its gloomy election prospects.
Only 5.8 percent of those polled attribute the party's slim chance of winning in the January presidential and legislative elections to Hung, the survey showed, with 51.1 percent saying the KMT has not mobilized all the resources at its disposal to campaign for Hung.
The poll found that 68 percent of respondents do not think Chu will be elected president next year if he replaces Hung in the race.
Contrary to most KMT members' belief that Chu would be a stronger candidate than Hung, the chairman garnered only 19 percent support among the respondents, compared with Hung's 18.5 percent, should he vie for presidency in the deputy legislative speaker's stead.
Democratic Progressive Party (DPP) presidential candidate Tsai Ing-wen (蔡英文) still maintains an overwhelming support rating of between 40.2 percent and 42.1 percent, regardless of who the KMT nominates, the survey showed.
Asked who would be the most suitable successor to Chu, who has pledged to step down as KMT chairman if the party loses the presidential election, 49 percent favor Legislative Speaker Wang Jin-pyng (王金平), while 13.7 percent prefer former Taipei mayor Hau Lung-bin (郝龍斌) and 6 percent support Hung, while 25.5 percent declined to answer.
CSPA deputy director-general Tan Yao-nan (譚耀南) said the poll results would further put in question the KMT's rationale for replacing Hung with Chu.
"We discovered from a further analysis of the results that Chu is far less favorable than Hung among pan-blue voters. About 25.3 percent of them are dissatisfied with Hung's overall performance this year, compared with 43.9 percent who are dissatisfied with Chu," Tan told a press conference in Taipei.
Former DPP legislator Lin Cho-shui (林濁水) said while the public widely feels that Hung is unfit to lead the nation, the KMT's attempt to nullify her nomination goes against procedural justice and rationality.
"However, the consequences of not removing Hung could be more severe for the KMT, given that she garners just 9 percent support among people aged between 20 and 24, many of whom are first-time voters," Lin said.
Lin said since first-time voters' future voting behavior tends to be determined by their initial voting experience and the KMT would risk jeopardizing its future development in the decades to come if it fails to change its candidate now.
Former DPP legislator Julian Kuo (郭正亮) said that while Chu's reported plan to oust Hung has taken a toll on his support rating, he could still salvage it and bring back some pan-blue supporters if he manages to unify the divided KMT.
The survey collected 1,074 valid samples, with a margin of error of 2.99 percentage points.
Comments will be moderated. Keep comments relevant to the article. Remarks containing abusive and obscene language, personal attacks of any kind or promotion will be removed and the user banned. Final decision will be at the discretion of the Taipei Times.