Hung still part of KMT 'family': Chu
EQUINE TALE: Hung Hsiu-chu compared herself to a horse that volunteers to accompany Buddhist master Tripitaka on a pilgrimage, despite the foreseeable hardships and challenges
Chinese Nationalist Party (KMT) Chairman Eric Chu (朱立倫) yesterday said that presidential candidate Hung Hsiu-chu (洪秀柱) is still part of the KMT family, but declined to comment on his reported intention to join the presidential race.
"I have said yesterday [Wednesday] that we are all part of a family. We should communicate with each other, endeavor to forge a consensus and seek victory through party solidarity," Chu said when asked to comment on a story shared by Hung on Facebook on Wednesday evening.
Chu also admitted he has not made enough effort in his capacity as party chairman, pledging to step up communication with Hung.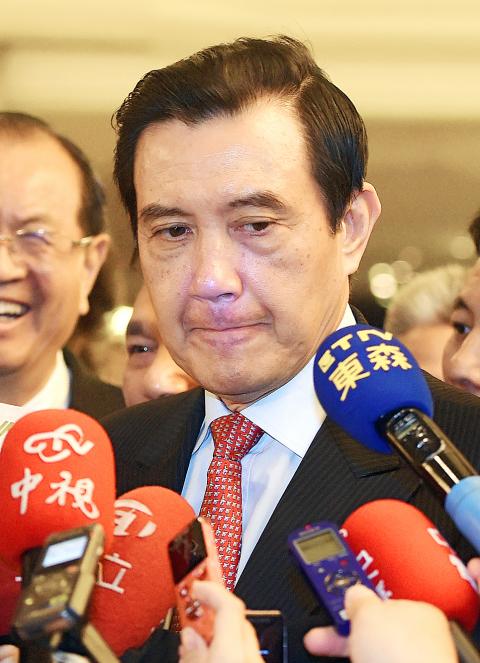 President Ma Ying-jeou answers reporters' questions before speaking at the opening ceremony of the World Peace Congress in Taipei yesterday.
Photo: Liao Chen-huei, Taipei Times
Hung shared "A Story about a Horse and a Donkey," just hours after the KMT Central Standing Committee presided over by Chu unanimously passed a motion to hold an extempore party congress aimed at replacing Hung as the party's presidential candidate.
She compared herself to a horse that volunteers to accompany the Buddhist master Tripitaka (唐三藏) on a pilgrimage to retrieve Buddhist scriptures, despite the foreseeable hardships and challenges, while a donkey takes the easy road and turns down the mission, so as to live a safer and more stable life.
"Life is all about making choices and everyone's choice is different... It is up to the person to decide whether to accept challenges and responsibilities, or to simply run around in circles," Hung wrote.
Following Hung's request on Wednesday for a debate about cross-strait policies, Chu said the KMT has long supported the so-called "1992 consensus" and "one China, with different interpretations" (一中各表), policies which have led to peaceful cross-strait development.
"This is the party's stance and its policies. I hope each party member can be united to support them," said Chu, who had said that Hung's pro-unification policies are deviating from the party's cross-strait stance and mainstream public opinion.
The "1992 consensus" — a term former Mainland Affairs Council chairman Su Chi (蘇起) admitted making up in 2000 — refers to an alleged understanding between the KMT and the Chinese Communist Party that Taiwan and China acknowledge there is "one China," with each side having its own interpretation of what that means.
When asked if the KMT leadership is handling the issue of Hung's candidacy in an unreasonable way, Chu downplayed the question, saying that Hung is part of the KMT family and that the party's enemies are not inside the KMT.
"Hung has suffered many frustrations," Chu said. "I can sympathize with her, and I will keep communicating with her in a genuine and sincere manner."
However, he evaded questions about the possibility of him teaming up with Hung — with Hung being the party's vice presidential candidate — and reports that he plans to step down as New Taipei City mayor and join the presidential race.
Separately yesterday, President Ma Ying-jeou (馬英九) said he supported the decisions made by the Central Standing Committee on Wednesday.
Ma said he admires Hung, noting that six months ago when no one in the party was willing to throw their hat into the ring, Hung had stepped up to announce a presidential bid.
At a time when the KMT is facing an uphill battle in the presidential and legislative elections scheduled for Jan. 16, the party needs solidarity more than ever, he added.
"We hope that Chu can better communicate with Hung. I will support the decisions of the Central Standing Committee," Ma said.
Additional reporting by CNA
Comments will be moderated. Keep comments relevant to the article. Remarks containing abusive and obscene language, personal attacks of any kind or promotion will be removed and the user banned. Final decision will be at the discretion of the Taipei Times.