Experts tout Japan defense adjustment
BATTLE BOOST: Former representative to Japan Koh Se-kai said changes to military rules could benefit Taiwan in a potential fight with China over unification
Prominent experts attending a Taiwan National Security Institute symposium in Taipei yesterday reacted positively to legislation pushed through by the ruling coalition in the Japanese parliament overnight on Friday authorizing overseas combat missions for that nation's military.
Institute president Lo Fu-chen (羅福全) said the new Japanese legislation, though meeting with protests at home, has secured the support of various countries, including the US, Australia, 28 members of the EU, the 10 ASEAN members and Mongolia, indicating that they hope Tokyo's enactment of collective defense rights would help maintain security and peace in the Asia-Pacific region.
Lo, who is a former representative to Japan, said that Japanese Prime Minister Shinzo Abe gave a speech at a seminar held by the institute in 2011 in which he stated that Taiwan and Japan are partners with shared values, and on July 29 Abe reiterated in the Diet that Taiwan is a crucial partner of Japan with shared values.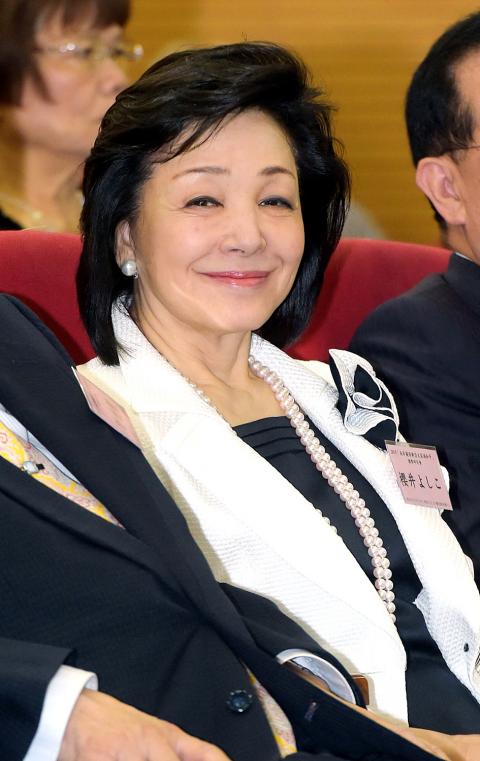 Japan Institute for National Fundamentals president Yoshiko Sakurai yesterday attends an international forum in Taipei on cross-strait relations and peace in the Asia-Pacific region.
Photo: Wang Min-wei, Taipei Times
The bill for collective defense is "necessary to curb China's expansionism," Lo said.
Former representative to Japan Koh Se-kai (許世楷) said that if Taiwan does not wish to see unification with China, the new legislation could be seen as "advantageous to Taiwan's position [in Japanese foreign policy]."
"Since most Taiwanese are against the idea of unification, [the legislation] is good news," Koh said. "It shows that the US-Japan alliance would be stronger, and if Taiwan is to fight a forcible Chinese annexation, the nation would be able to stand with the US and Japan behind it."
Japan Institute for National Fundamentals president Yoshiko Sakurai, who is considered to be a leading supporter of the legislation, said their passage means that Japan, which since World War II has been unilaterally under the protection of the US military, has realized that "Japan should start to act to take up the responsibilities that it should have borne."
Sakurai told the symposium that aggressive Chinese moves in the South and East China seas, despite protests from various nations — including Japan and the US — have been facilitated by the passiveness of the administration of US President Barack Obama, which is disinclined to continue playing the role of the world's policeman.
"It is natural for any nation, in the face of China's threat — while continuing the effort to maintain talks — to develop its military power as a preventive measure [against possible military conflict]," Sakurai said.
"There is vociferous and swelling protest in Japan against the legislation for fear of being caught up in wars. Despite the existence of opposition, the Abe administration's decision will actually make little change, as the approved use of collective defense rights has been extremely limited to specific circumstances," she said.
Former American Institute in Taiwan (AIT) director William Stanton, who is now director of National Tsing Hua University's Center for Asia Policy, said it was "a good thing for Japan to do."
"The US spends an enormous amount of money to keep troops in [South] Korea, Japan and Europe," he said.
"So I'd like to see our allies and partners putting their own money and effort into security, particularly now regional security is at a sensitive time," he said.
"So I not only thought it's a good thing, but I also thought it's a timely effort on the part of Japan because of the increasing instability that I see in East Asia brought about by the territorial ambitions of China," he said.
"Japan is worried about that; they expect the US to come to their aid, and we've said we would," Stanton said.
"Shouldn't there be a mutual expectation that in some way if we need some assistance they would come to ours?" he said.
"It's like any alliance relationship; it cannot only be in one way," he said.
"I realized that a lot of people in Japan are uncomfortable with it, but a lot of Americans are also uncomfortable that we spend so much keeping our troops overseas. So I just think it was probably inevitable that it would happen anyway," he added.
Democratic Progressive Party (DPP) Chairperson Tsai Ing-wen (蔡英文) said that the comprehensive effect of the legislation requires further analysis, adding that the DPP would continue to keep an eye on developments.
In her speech to the symposium, Tsai said that Taiwan would play a constructive role in maintaining stability and peace in the Taiwan Strait and the Asia-Pacific region through its economic power and democracy, which would not be damaged or forced to retreat under the watch of Taiwanese.
Comments will be moderated. Keep comments relevant to the article. Remarks containing abusive and obscene language, personal attacks of any kind or promotion will be removed and the user banned. Final decision will be at the discretion of the Taipei Times.