Wall Street follows global rout
THERE'S PANIC: One German broker said there was no rational reaction, as European trading volumes soared and the S&P 500 and the NASDAQ slipped into correction mode
A wave of selling gripped global markets yesterday as the rout in all but the safest assets deepened.
Wall Street opened sharply lower with the Dow Jones industrial average losing more than a 1,000 points. The Dow has never lost more than 800 points in a day.
Futures on the NASDAQ, S&P and Dow indices were halted briefly before the market opened after hitting a circuit breaker, a step taken by exchanges to reduce volatility and give investors time to assess information.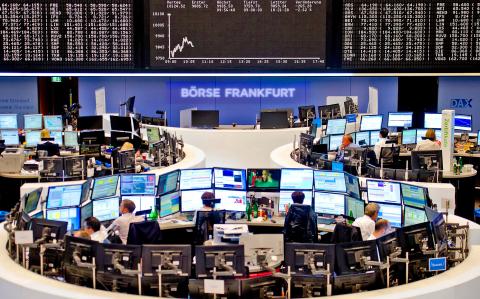 An information board yesterday shows the decline of the German DAX to a one-year low at the stock exchange in Frankfurt, Germany.
Photo: EPA
With yesterday's selloff, the S&P 500 Index and the NASDAQ composite slipped into correction mode, joining the Dow, which slid into correction territory on Friday last week.
An index is considered to be in correction when it falls 10 percent from its 52-week high.
The New York Stock Exchange invoked a rule saying market makers do not have to disseminate price indications before the opening bell in an effort to make it easier and faster to open stocks on a volatile trading day.
Earlier in the day, Chinese shares tumbled by the most since 2007, while stocks in Germany headed for a bear market and commodities fell to a 16-year low.
Russia's ruble led a selloff in emerging-market currencies, while the yen strengthened and 10-year US Treasury yields slid below 2 percent for the first time since April.
Futures signaled the selloff in the US would continue as the NASDAQ 100 contract fell by its 5 percent daily limit where further declines are barred.
"Everyone seems to be selling off, and there's panic," said Michael Woischneck, who helps oversee the equivalent of US$7.1 billion at Lampe Asset Management GmbH in Dusseldorf, Germany. "There's no rational choice anymore, no rational reaction. The Americans will add to the European selling."
More than US$5 trillion has been erased from the value of global equities since China unexpectedly devalued the yuan on Aug. 11, fueling concern that the slowdown in the world's second-largest economy is worse than anticipated.
The rout is shaking confidence that the global economy will be strong enough to withstand higher US interest rates, even as bets ease on an increase next month.
Trading volume was more than double the 30-day average in Europe, where stocks headed for the biggest drop since 2008.
The MSCI Emerging Markets Index slid 5 percent at 8:53am in New York, the most since 2011.
Producers of basic resources led losses as Brent crude tumbled through US$45 a barrel. Treasury 10-year note yields fell as low as 1.97 percent.
"We're definitely getting a lot of calls from clients," Michele Santangelo, a money manager at Vunani Private Clients, said by telephone from Johannesburg, South Africa. "You're seeing a lot of capitulation, people selling for the sake of selling and wanting to get out of the market."
Shares in all but three companies fell in the STOXX Europe 600 Index, driving the gauge down 5 percent. Germany's DAX retreated 4.5 percent, taking the decline from its peak in April to more than 20 percent.
Investors are selling their most-loved stocks, with Apple Inc and Netflix Inc losing more than 4 percent in early New York trading.
The selloff will worsen, according to Doug Ramsey, the chief investment officer of Leuthold Weeden Capital Management LLC, whose quantitative research into market breadth, valuation and investor sentiment foreshadowed the drubbing in US stocks last week.
In Asia, the Shanghai Composite Index slid 8.5 percent and Hong Kong's Hang Seng Index fell 5.8 percent, tumbling further into a bear market. The measure is about 25 percent below an April high, with a gauge of price momentum dropping to the lowest since the October 1987 stock-market crash.
"This is a real disaster and it seems nothing can stop it," said Chen Gang (陳剛), Shanghai-based chief investment officer at Heqitongyi Asset Management Co.
Greater China equities plummeted, with Taiwan's TAIEX dropping as much as 7.5 percent. More than US$4 trillion was wiped from the value of Chinese equities from June 12 through Friday last week.
Comments will be moderated. Keep comments relevant to the article. Remarks containing abusive and obscene language, personal attacks of any kind or promotion will be removed and the user banned. Final decision will be at the discretion of the Taipei Times.