CWB issues sea alert as Typhoon Goni approaches
The Central Weather Bureau (CWB) yesterday issued a sea alert for Typhoon Goni, which is approaching the east coast after it grew in intensity.
As of 8:30pm yesterday, the center of the typhoon was 450km southeast of Oluanpi (鵝鑾鼻). It was moving northwest at 8kph. The radius of the storm had expanded to 200km.
The sea alert applies to vessels operating in the Bashi Channel, as well as near the southeast coast, including Green Island (綠島) and Orchid Island (Lanyu, 蘭嶼).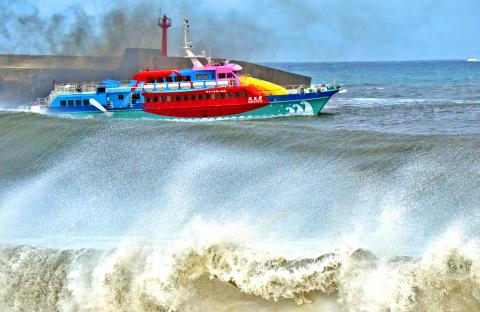 A ferry leaves Fugang Harbor in Taitung yesterday as Typhoon Goni approaches Taiwan.
Photo: CNA
The bureau said that the nation would gradually be affected by Goni's circumfluence, with a high likelihood of showers and strong precipitation forecast nationwide today. It added that the typhoon could move northeast away from Taiwan or come closer to the nation before turning north.
In related news, the Taipei Water Department yesterday announced revised procedures for managing water supplies during and after heavy downpours, after the city government came under heavy fire after Typhoon Soudelor hit earlier in the month for supplying water with a turbidity of more than 30,000 nephelometric turbidity units (NTUs).
According to the new guideline, when a reservoir's raw water turbidity reaches 6,000 NTUs, the volume of water drawn from it will be reduced, and when turbidity reaches 12,000 NTUs supply from the reservoir will be cut off completely, Taipei Water Department Director Chen Chin-hsiang (陳錦祥) said.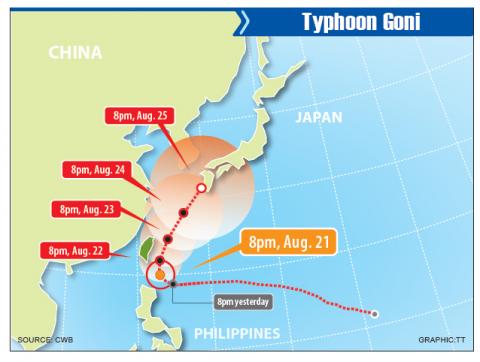 Within three hours of the cut-off, the department will assess whether to turn the water back on by observing rainfall levels upstream, turbidity of the raw water, available capacity of the water purification plants and demand for water downstream.
Chen said that about 143,000 households would be affected at the sixth hour of a cut-off, and at the 24th hour, 1 million households. If a cut-off lasts more than 24 hours, restoring supply would take about two days, and more than that at the ends of water mains and at high elevations.
The Taipei Water Department said that since the water tanks in most apartment buildings contain about a day's worth of water under normal use, households that draw water from a building water tank instead of directly from the city pipes should take advantage of it by conserving water from the day before a typhoon.
Comments will be moderated. Keep comments relevant to the article. Remarks containing abusive and obscene language, personal attacks of any kind or promotion will be removed and the user banned. Final decision will be at the discretion of the Taipei Times.