MOEA eases China investment rule
The Ministry of Economic Affairs (MOEA) yesterday said it plans to ease regulations on China-bound investments in 12-inch wafer foundries, allowing Taiwanese semiconductor companies to wholly own 12-inch plants in China.
"The relaxed regulations will help Taiwanese companies, such as Taiwan Semiconductor Manufacturing Co (TSMC, 台積電), to fortify their position in the expanding Chinese market," Vice Minister of Economic Affairs Shen Jong-chin (沈榮津) told a press conference.
Under current regulations, Taiwanese firms are allowed to invest in 12-inch chip plants in China only via merger and acquisition or by doing so jointly with other companies.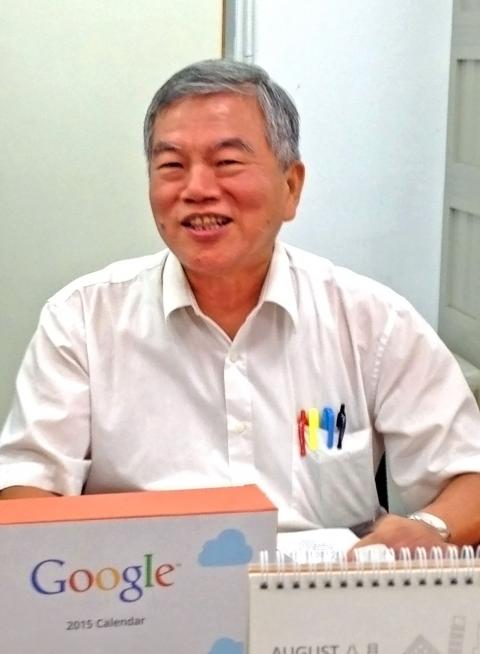 Vice Minister of Economic Affairs Shen Jong-chin speaks at a press conference in Taipei yesterday, announcing plans to ease regulations on China-bound investments of 12-inch wafer foundries, allowing Taiwanese semiconductor companies to wholly own 12-inch plants in China.
Photo: CNA
Shen said TSMC had approached the Executive Yuan and the ministry several times to urge the government to ease the China-bound investment requirements, after major semiconductor companies like Intel Corp and Samsung Electronics Co set up 12-inch plants there.
In addition, Beijing is planning to raise 120 billion yuan (US$18.75 billion) to foster its semiconductor industry over the next few years, which poses a great threat to Taiwan's semiconductor industry in the long term, he said.
"We forecast China's semiconductor industry to account for 31 percent of global market share by 2018," Shen said. "It is necessary for Taiwan to amend the regulations to help local semiconductor firms secure a share of the Chinese market as soon as possible."
"As Taiwanese panel makers failed to secure market share in China, we cannot let Taiwan's semiconductor industry face the same dire situation," he added.
Based on the proposed regulatory amendments, Taiwanese semiconductor companies can wholly own up to three 12-inch plants in China, with the proposed investment in wafer technologies required to be one generation less advanced than the company's most advanced technology.
Shen said the ministry would also request local companies to invest in research and development in more advanced semiconductor technologies in Taiwan. They are also to be required to purchase materials from Taiwan, he said.
The new regulations, which are under administrative review, could take effect at the end of this month at the earliest following the Executive Yuan's approval, Shen said.
Investment Commission acting executive secretary Emile Chang (張銘斌) said it would take two months for the commission to review companies' investment applications.
TSMC spokesperson Elizabeth Sun (孫又文) yesterday said the company is still evaluating the possibility of Chinese investment.
"The deregulation is a positive factor for the company in considering a Chinese investment plan" in the future, Sun said by telephone.
The relaxation is to provide better protection for Taiwanese firms' intellectual property rights and trade secrets as long as they can operate a 100 percent-owned Chinese unit, Sun said.
China contributed 8 percent of TSMC's overall revenue of NT$205.44 billion (US$6.35 billion) last quarter.
The company currently operates an 8-inch factory in Shanghai, with annual capacity of 100,000 wafers.
TSMC chairman Morris Chang (張忠謀) early this year said that the company is considering making 28-nanometer chips in China.
Industrial Technology Research Institute (工研院) semiconductor industry analyst Jerry Peng (彭茂榮) said operating a Chinese plant would help Taiwanese chipmakers fend off growing competition from their Chinese rivals.
However, only industry leaders with deep pockets like TSMC could afford a new 12-inch factory on their own in China, Peng said.
Taiwan's United Microelectronics Corp (UMC, 聯電) is building a 12-inch factory in China via a three-way venture with the Xiamen City Government and Fujian Electronics & Information Group (福建電子信息集團), while Powerchip Technology Corp (力晶科技) has inked an agreement with Hefei Construction Investment and Holding Co Ltd (合肥市建設投資控股) to invest in a Chinese chipmaker to manufacture driver ICs for LCD TV panels at a new 12-inch plant.
Additional reporting by Lisa Wang
Comments will be moderated. Keep comments relevant to the article. Remarks containing abusive and obscene language, personal attacks of any kind or promotion will be removed and the user banned. Final decision will be at the discretion of the Taipei Times.