James Soong declares presidential bid
CALLING: The veteran politician vowed to facilitate communication between parties and all sectors of society, and review controversial curriculum guidelines
People First Party (PFP) Chairman James Soong (宋楚瑜) yesterday announced his widely anticipated presidential bid in a race that originally featured just two female candidates.
At a news conference packed with hundreds of his supporters, Soong said he decided to again vie for the presidency after being saddened by how the government has handled the contentious adjustments to high-school curriculum guidelines and the long-standing blue-versus-green political wrangling.
"Yesterday [Wednesday] marked the seventh day after the death of a young man named Dai Lin (林冠華), who sacrificed his life in a widespread student-led protest against backroom curriculum changes," Soong said.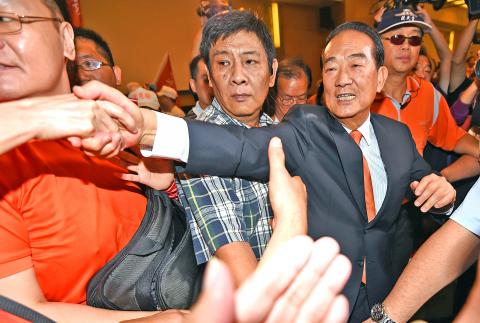 People First Party Chairman James Soong, right, yesterday shakes hands with a supporter at a press conference in Taipei after announcing he would enter January's presidential election.
Photo: Liao Chen-huei, Taipei Times
Soong said he could not comprehend how something that could have been openly discussed had gone in such an aggressive direction, urging the government to delay the introduction of the new guidelines by one year.
This issue should be handled by the next president, who should ensure that the curriculum adjustments are discussed in a transparent manner and conform with historical facts "written in the blood and sweat of the nation's forebears," Soong said.
Turning to the long-running feud between the pan-blue and pan-green camps, the 73-year-old said he was determined to offer solutions instead of political slogans.
"The key words for Taiwan's future is not power struggle, not blue or green, not winning or losing. They are cooperation, sharing, mutual aid, feeling for others and working together," Soong said.
The former Taiwan provincial governor made six campaign pledges. He vowed to facilitate communication among different political parties and all sectors of society, and to push for a revision of the Constitution.
He also promised to deliver an annual "state of the union" address before the legislature, establish a cross-party coalition government to put an end to one-party rule and talk to the people to keep himself in sync with issues close to the public's heart.
On cross-strait issues, Soong pledged to maintain the "status quo" across the Taiwan Strait, which he said was the most agreed-upon consensus among the nation's 23 million people.
"If elected, I will ensure public participation, transparency, open scrutiny and legislative supervision in the government's creation of major cross-strait policies," he said.
Stressing that people from both sides of the Taiwan Strait are all descendants of the legendary emperors Yan and Huang and belong to the big zhonghua minzu (Chinese ethnic group, 中華民族) family, Soong said cross-strait relations should be furthered and mutual trust across the Taiwan Strait be built based on the principles of equality, reciprocity and transparency.
Soong's first presidential bid was in 2000, when he ran as an independent candidate after failing to obtain the Chinese Nationalist Party's (KMT) nomination.
In 2004, Soong, as the PFP chairman, ran for vice president, alongside then-KMT chairman Lien Chan (連戰).
His most recent attempt to run for the nation's top office was in 2012, when he competed against President Ma Ying-jeou (馬英九) of the KMT, who was running for re-election, and the Democratic Progressive Party's (DPP) Tsai Ing-wen (蔡英文).
All of his previous bids were unsuccessful.
Soong's campaign could potentially hurt both the two major parties' presidential candidates, Deputy Legislative Speaker Hung Hsiu-chu (洪秀柱) of the KMT and Tsai.
According to a telephone-based opinion poll released by the Cross-Strait Policy Association on July 7, if only Tsai and Hung ran for president, 50.4 percent of respondents said they would support Tsai, while 26.9 percent said they would back Hung.
However, should Soong join the Jan. 16 election, 21.4 percent of respondents said they would vote for the veteran politician, with Tsai's support rate decreasing to 39.6 percent against Hung's 19.4 percent.
Another survey conducted by the Chinese-language Apple Daily from July 30 to Sunday showed Tsai leading Hung by 8.57 percentage points if the race was a two-way contest.
However, when Soong was introduced in the poll, both Tsai's and Hung's support rates dropped from 43.73 percent and 35.16 percent to 35.67 percent and 29.68 percent respectively.
The survey showed that 24.69 percent of respondents would support Soong.
Comments will be moderated. Keep comments relevant to the article. Remarks containing abusive and obscene language, personal attacks of any kind or promotion will be removed and the user banned. Final decision will be at the discretion of the Taipei Times.