Taiwan needs reform, Lee tells Diet
Former president Lee Teng-hui (李登輝) delivered a speech to hundreds of Japanese lawmakers at the Diet building in Tokyo yesterday, saying Taiwan is in immediate need of a second democratic reform to smooth its passage into a full-fledged democracy.
Titled the "Paradigm Shift of Taiwan," the speech made Lee the first Taiwanese politician to address the Diet and marked Lee's seventh visit to Japan since he left office.
Lee said that Taiwan underwent the first democratic reform during his time in office, and the nation has since become an embodiment of the Asian transition to democracy.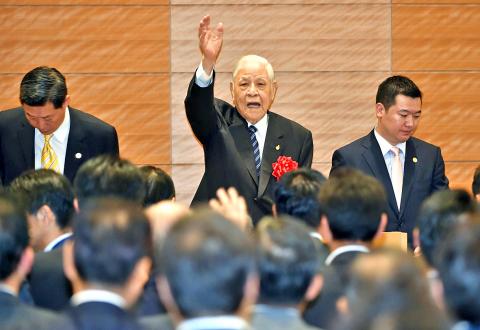 Former president Lee Teng-hui, center, gestures after delivering a speech to Japanese legislators at the Diet members' office building in Tokyo yesterday.
Photo: AFP
Lee said that Taiwan was under foreign rule for hundreds of years until the first direct presidential election in 1996.
Taiwanese disagree with the "one China" policy and the claim that "Taiwan is a part of China" as China has repeatedly stressed, he said.
To maintain the long-term stability of Taiwan, "the ambiguous relationship between Taiwan and China that has spanned more than half a century must be clarified," Lee said.
He said Taiwan experienced a paradigm shift from the "ethnic conflict under the rule of a dominant minority" to the "coexistence of multiple ethnic groups" between the 1980s and the 1990s, when the nation saw a long-lasting economic boom and fair distribution of wealth, which Lee described as the first democratic reform in Taiwan.
However, that reform has reached its limit, and the call for a second wave of reforms — including constitutional reform — is increasingly urgent, especially among young people, Lee said.
Although direct presidential election are codified in the Constitution, there is no provision in the Constitution to limit presidential power, and it depends solely on the presidents themselves to exercise self-restraint and not to abuse their power, he said.
"I am 92 years old, and there might be only five more years for me at most to do something for Taiwan," Lee said, adding that he would devote the rest of his life to the nation.
Saying that both Taiwan and Japan define democracy and liberty as their highest values, he said that he would like to see the two nations join hands to make a contribution to the world, as well as Japan's sustained support for Taiwan.
Responding to a question raised by a Diet member in a closed-door question-and-answer session on "what Japan is lacking," Lee said: "The spirit of Bushido ["the way of the samurai"] is universally true, and Japan could lead the world if it lives up to that standard, especially honesty and earnestness as commanded in Bushido."
Comments will be moderated. Keep comments relevant to the article. Remarks containing abusive and obscene language, personal attacks of any kind or promotion will be removed and the user banned. Final decision will be at the discretion of the Taipei Times.