MRT slasher suspect charged, detained
'ALL TOO LATE': Police allege that Kuo Yen-chun, who had been sleeping in a public park, told them he carried out the attack out of frustration after being jobless for a long time
Kuo Yen-chun (郭彥君), the suspect in the Taipei MRT knife attack on Monday evening that injured four people, was detained yesterday after being charged with attempted murder and intentional injury.
Kuo was questioned at the Shilin District Prosecutors' Office in Taipei yesterday morning, then taken to the Shilin District Court, where the presiding judge upheld the prosecutors' request for detention, saying the suspect has no permanent residence and that detention was necessary to prevent him from escaping justice.
Police said the 27-year-old suspect told them: "I wanted to kill someone," and that he had made a mistake, but "it was all too late."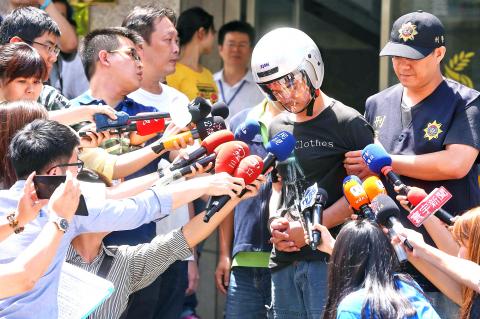 A man surnamed Kuo, second right, who was detained by police on Monday night at Zhongshan MRT Station after allegedly attacking four people with a knife, is silent as he is escorted out of the Shilin District Prosecutors' Office in Taipei yesterday.
Photo: CNA
Datong District (大同) Deputy Chief of Police Chang Chin-an (張金安) alleged that Kuo headed to the Zhongshan MRT Station carrying a kitchen knife on Monday evening and slashed four people as he walked down the escalator of the No. 4 exit, creating panic as people ran away in fear.
Kuo was then disarmed and apprehended by security guards, with the help of several MRT passengers.
Chang said the four victims, three women and one man, were taken to the nearby Mackay Memorial Hospital for treatment. They all suffered lacerations that were not life-threatening.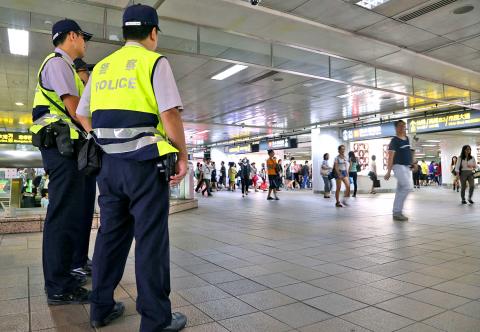 Police yesterday stand guard in Zhongshan MRT Station in Taipei following a knife attack in the station on Monday night.
Photo: CNA
During questioning by investigators, Kuo was quoted as telling the police that he had carried out the attack because he had been unemployed for a long time and was "in a bad mood."
Police officials said Kuo had been convicted of illegal drug use in May.
Local media reported that after his parents divorced, Kuo went to live in Japan with his mother, who subsequently married a Japanese man. After his mother died of cancer, Kuo returned to Taiwan to live in Taipei with his aunt.
Kuo was quoted by police as saying that he left home last week after having a quarrel with his aunt; since then, he had been sleeping in a public park near Hejiang Street (合江街).
In response to the MRT attacks, the National Police Agency (NPA) demanded that police in Taipei and New Taipei City increase security at public entertainment venues and university campuses to try to prevent future incidents.
Meanwhile, Taipei Mayor Ko Wen-je (柯文哲) yesterday called for a "social movement" of caring for others as a means of protecting oneself.
"The opposite of love is indifference, not hatred — if you care for others, you're also protecting yourself," Ko said, adding that the increase in "random" stabbings was "absolutely" a problem that needs to be addressed.
While saying Monday's incident had been handled well, Ko said that more has to be done to prevent similar incidents, adding that the city government had discovered a "hole" in the social safety net, and that the question of how to find and counsel socially isolated people was important to address.
While the city government has systems in place for tracking alcoholics, potential suicides and drug addicts, there is no system in place to keep track of the socially isolated, he said.
Ko called for the establishment of a screening system for psychological problems.
He added that to prevent inspiring further "copy-cat" attacks, the city government would not provide security camera footage of attacks to the media.
The city government has ruled out installing X-ray machines and other security equipment on the MRT system because of the high costs doing so would entail, he said.
Additional reporting by Abraham Gerber
Comments will be moderated. Keep comments relevant to the article. Remarks containing abusive and obscene language, personal attacks of any kind or promotion will be removed and the user banned. Final decision will be at the discretion of the Taipei Times.