Hundreds injured in Bali water park inferno
COLOR, THEN TERROR: A 'Color Play Asia' event turned into a nightmare when a blaze engulfed partygoers in front of a bandstand. The injured are being treated at 43 hospitals in northern Taiwan
Hundreds of people were injured last night when an inferno erupted during a party at the Formosa Fun Coast (八仙海岸) water park in New Taipei City's Bali District (八里).
An explosion occurred about 8:30pm after colored powder that was sprayed over "Color Play Asia" partygoers in front of a stage apparently exploded in the air, triggering a fire that was quickly brought under control.
Initial reports of about 200 people being injured rose to more than 500 by early this morning, with at least 200 reported in serious condition. The numbers rose as authorities tracked victims who had taken themselves to nearby hospitals or been transported by friends or other people.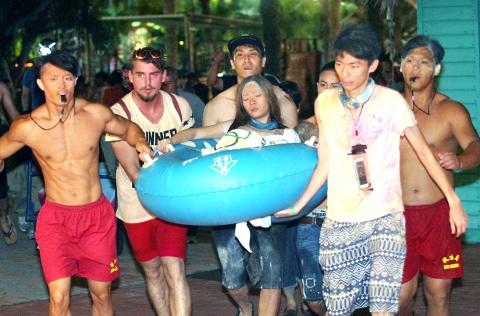 Lifeguards and others last night carry a young woman suffering from facial burns to an ambulance at the Formosa Fun Coast park in New Taipei City's Bali District after a fire erupted during a Color Play Asia party, injuring hundreds of partygoers.
Photo: EPA
New Taipei City Mayor Eric Chu (朱立倫) arrived at the scene at 10:20pm last night. Due to the large number of injured, Chu asked for ambulance support from Taipei, Taoyuan and Keelung.
The New Taipei City government also used social messaging app Line to notify people about the incident and to urge them to avoid the park area.
Military personnel were deployed to help with rescue efforts at the park, where partygoers were using large inflatable swimming tubes and floats as stretchers to carry the injured from the park or tend to them until rescuers arrived.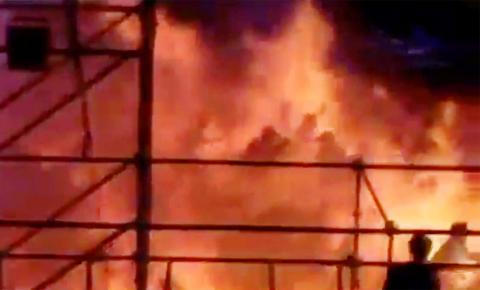 A frame grab from video footage provided by the Apple Daily from one of its readers, a Miss Huang, shows revelers last night being engulfed by flames at the Formosa Fun Coast park in New Taipei City's Bali District.
Photo: AFP / Apple Daily / Miss Huang
Several victims, some of whom suffered burns over 40 percent of their bodies, were sent to Mackay Memorial Hospital in Tamsui District (淡水), Chang Kung Memorial Hospital in Linkou District (林口), both in New Taipei City, and Taipei Veterans General Hospital in Tianmu for emergency treatment.
Ministry of Health and Welfare spokesman Wang Che-chao (王哲超) early today said the injured were being treated at 43 hospitals in Taipei, New Taipei City, Taoyuan and Keelung.
The ministry said on its Web site that many of the victims would require skin grafts and the hospitals had put out urgent requests for other supplies to treat severe burns.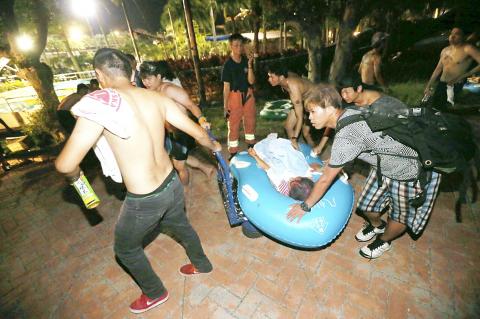 Partygoers last night tend to injured victims after an explosion and fire during a Color Play Asia event at the Formosa Fun Coast park in Bali District, New Taipei City, that injured hundreds of people.
Photo: CNA 
It also said that the injured, who were mostly in their late teens and 20s, included at least 13 foreigners.
Witnesses described the scene as "hell" as a ball of fire ripped through the crowd, most of whom were clad only in bathing suits.
Video footage showed crowds of people dancing in front of a stage and cheering as clouds of green and yellow powder were shot into the air above their heads.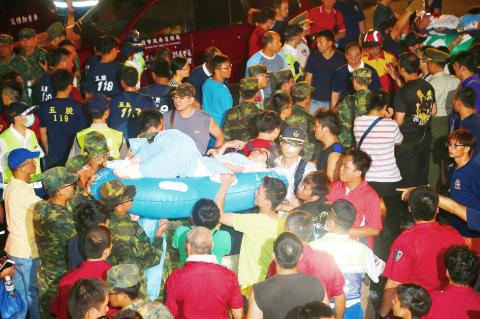 Military personnel and rescue workers last night carry a woman injured in a fire at the Formosa Fun Coast park in the Bali District, New Taipei City, that injured hundreds of people.
Photo: CNA
The cheers turned to screams when the powder suddenly erupted into flames, engulfing many.
Eyewitnesses said some of those who had been burned jumped into a nearby pool, seeking relief from the pain, while others were helped by bystanders who poured water over them.
Authorities said in addition to skin burns, many of those hurt had suffered injuries caused by burns to the respiratory organs from inhaling the powders.
Police are investigating the cause of the accident. Five people, including the event manager, have been detained by police and are being questioned.
"Our initial understanding is this explosion and fire ... was caused by the powder spray. It could have been due to the heat of the lights on the stage," a spokesman for the New Taipei City fire department said.
Authorities have closed the park until further notice.
Comments will be moderated. Keep comments relevant to the article. Remarks containing abusive and obscene language, personal attacks of any kind or promotion will be removed and the user banned. Final decision will be at the discretion of the Taipei Times.