Eric Chu says a possible US trip needs discussion
MASTER'S QUERY: Chu said he would have to consult with Hung's campaign team, while radio host Clara Chou questioned a master's degree Hung received in the US
Chinese Nationalist Party (KMT) Chairman Eric Chu (朱立倫) yesterday said that the possibility of him making a trip to the US in KMT presidential nominee Hung Hsiu-chu's (洪秀柱) stead would need to be further discussed by the party's campaign headquarters.
Chu had said Hung might visit the US in August or September, but Hung said it is up to her to decide whether she would make any visit, which local media reports have called "a slap in the face" for Chu.
"[Whether I will be going to the US in Hung's stead] would have to be first fully discussed within the election campaign headquarters," Chu said.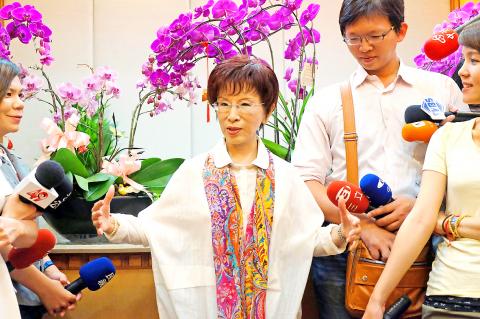 Deputy Legislative Speaker and Chinese Nationalist Party (KMT) presidential hopeful Hung Hsiu-chu speaks to journalists at the legislature in Taipei yesterday.
Photo: Sam Yeh, AFP
When asked whether that means there is a possibility that he could make the trip, he stressed that the discussion has not yet taken place.
Separately yesterday, the authenticity of Hung's master's degree was questioned by radio host Clara Chou (周玉蔻), who said a program Hung attended at what was then called Northeast Missouri State University was merely a summer credit program.
Hung said that the program was indeed a "summer or winter credit program," but added: "The diploma is real."
"Although it was not recognized by the Ministry of Education, the study and the diploma are both real," Hung said.
"It signifies the spirit of life-long learning, which is not done to gain promotion, but to extend my own learning," she said, adding that a person's academic qualifications do not indicate their capabilities, while political candidates should emphasize their policy platforms.
The ministry said later yesterday that the university, which is now called Truman State University, is on its listing of US colleges.
Department of Higher Education Director-General Huang Wen-ling (黃雯玲) said only those who plan to apply for higher degree programs or for public office and teaching positions would need the ministry to have their foreign degrees certified, which is a rigorous process.
A master's degree, for example, would entail a minimum of eight months of full-time study to complete, Huang said.
However, if the degree was conferred by the university, it would be authentic even if it was ineligible for recognition in Taiwan because of the eight-month criterion, Huang added.
Comments will be moderated. Keep comments relevant to the article. Remarks containing abusive and obscene language, personal attacks of any kind or promotion will be removed and the user banned. Final decision will be at the discretion of the Taipei Times.