KMT invites non-party figures to address committee
The Chinese Nationalist Party (KMT) is said to have invited several public figures not affiliated with the party — including National Chengchi University professor Hsu Shih-jung (徐世榮), a campaigner often seen on the streets protesting the government's land policies — to its weekly Central Standing Committee meeting to deliver speeches.
The Chinese-language Apple Daily reported that the KMT is to invite personalities from different walks of life to the meeting, which until now has seen only public officials giving policy presentations.
The list of invitations disclosed so far includes Hsu, director Khan Lee (李崗), who is now working on the second part of Taiwanese history documentary film Attabu (阿罩霧風雲), and high-school teacher Tseng Kai-hsin (曾愷芯), a male by birth who has recently received national attention for her decision to undergo gender reassignment surgery.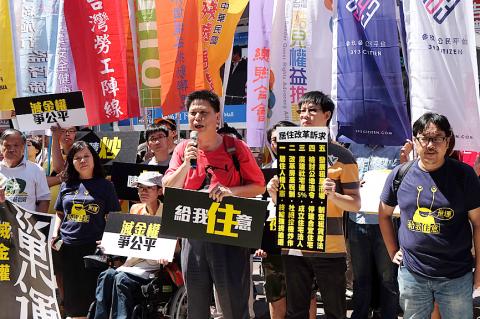 National Chengchi University professor and Taiwan Rural Front spokesperson Hsu Shih-jung, center, speaks at a housing rights rally in Taipei on Aug. 26 last year.
Photo: Chen Ping-hung, Taipei Times
Hsu confirmed the report on Facebook, saying that he has accepted the invitation and is slated to give a speech at the meeting on Wednesday next week.
Responding to netizens who said his speech to the KMT would amount to casting pearls before swine, Hsu said that even so, it would still be worth a try.
"I would also be glad to give speeches to other parties if I'm invited," he said. "It is a chance for us to let these people in the corridors of power know that land exppropriation, a basic human rights issue, requires meeting rigorous conditions for its execution."
"I would also take this opportunity to express the pain of the victims of the Dapu incident and many self-help organizations across the country, and [report] the unfair treatment they have been subjected to," he said.
According to the report, Tseng said she has not yet received an invitation from the KMT to address the party, but that she would probably decline the offer because she "does not like to attend events that are too politically oriented."
KMT Chairman Eric Chu (朱立倫) promised an "open KMT" when he was sworn in, and inviting non-party-affiliated public figures is the first step in fulfilling that idea, KMT Secretary-General Lee Shu-chuan (李四川) said.
Comments will be moderated. Keep comments relevant to the article. Remarks containing abusive and obscene language, personal attacks of any kind or promotion will be removed and the user banned. Final decision will be at the discretion of the Taipei Times.