Hung says she, not Chu, is to decide on US visit
In an apparent rebuttal to Chinese Nationalist Party (KMT) Chairman Eric Chu (朱立倫), Hung Hsiu-chu (洪秀柱), the party's likely presidential candidate, said that she has the final say on whether she is to visit Washington and on her stance on cross-strait issues.
Chu yesterday morning said that the KMT would arrange for Hung to visit the US in August or September if the party's national congress endorses her nomination next month, despite Hung seeming reluctant to visit the US.
However, Hung issued a statement in the afternoon saying her campaign team would take into account two factors — whether it would be in the nation's interests and whether time permits — before a decision would be made on the matter.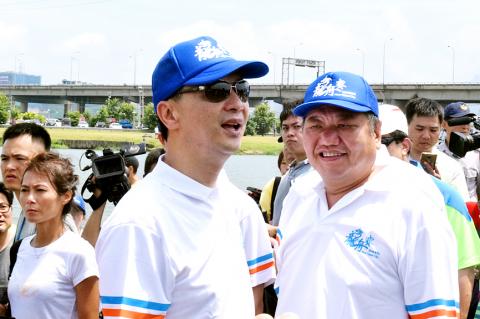 New Taipei City Mayor Eric Chu, left, and New Taipei City Council Speaker Chiang Ken-huang attend the New Taipei City Speaker's Cup dragon boat races at the Taipei Metropolitan Park in Sanchong District yesterday.
Photo: Chen Wei-tsung, Taipei Times
Hung appeared to be put on the spot with questions of her intent to visit the US, primarily to exchange views over cross-strait issues, as Democratic Progressive Party (DPP) presidential nominee Tsai Ing-wen (蔡英文) recently did, after American Institute in Taiwan Director Kin Moy on Wednesday said, in response to media inquiries, that the US would welcome a visit by Hung and accord her the same courtesy as her DPP counterpart.
Having said on Thursday that she was "hesitant" and "reluctant" about visiting Washington, despite being repeatedly urged by Chu to do so, also asking why she should bother "if [the US] will not show a higher level of courtesy" toward her than to Tsai, when she was asked to respond to Moy's remarks, Hung said on Friday that her earlier remarks were "coy" and of a "joking nature."
Hung said on Friday that she would be "willing to reconsider" a trip to Washington if the US side invites her with good intentions, but her previous statements have prompted heated discussion among political commentators.
In an article published by the Chinese-language Apple Daily on Friday, Broadcasting Corp of China chairman Jaw Shaw-kong (趙少康) said Hung should visit the US as soon as possible, before the US Congress adjourns for the summer.
Now that Moy has extended a welcome, Hung should not be hesitant, Jaw wrote.
Jaw said that Hung should communicate with US government officials, senators, representatives and media to clarify that she would push for economic cooperation across the Taiwan Strait, rather than unification.
Hung should consider a visit to the US an opportunity to make friends and share her views with the US, given that the US' acquaintance with her is limited, and to enhance her understanding of international affairs, Jaw wrote.
US-based Chinese writer and democracy advocate Yu Jie (余杰), in an article published on news Web site Newtalk, said that if Hung goes to Washington, she would not have as much success as Tsai did.
With China growing more assertive and the US focusing more on East Asia, the US would not tilt in favor of the KMT this time as it did in the 2012 presidential election amid worries that a change of government might create tensions in cross-strait relations when it was then preoccupied with the Middle East, Yu said.
Amid rising US-China tensions, the US has lost trust in the KMT because of the party's extreme pro-China agenda, Yu said.
Chu yesterday attempted to shift attention away from the topic, saying that Hung was just speaking "in a light, humorous tone" when she made the remarks that suggested she was unwilling to visit the US.
Hung's statement yesterday was described by media as a "slap in Chu's face."
From now on, if any discrepancy arises between the KMT and Hung's campaign team with regard to whether to a US visit or cross-strait issues, what Hung or her spokesperson says should prevail, the statement read.
Hung said she would set up a meeting with Moy after the party congress to discuss the "triangular relationship of the US, the Republic of China and mainland China."
She added that her advisers on diplomacy, including former ministers of foreign affairs, Chen Chien-jen (程建人) and Francisco Ou (歐鴻練), would stay in close contact with the US to help it understand her cross-strait policy and provide answers should it have any questions.
Comments will be moderated. Keep comments relevant to the article. Remarks containing abusive and obscene language, personal attacks of any kind or promotion will be removed and the user banned. Final decision will be at the discretion of the Taipei Times.