Tsai applauds poll results, calls for voting age reform
'HOPE AND ZEAL': The DPP chairperson said she welcomed the participation of young people in public affairs, citing recent events as evidence of their maturity
Democratic Progressive Party (DPP) Chairperson Tsai Ing-wen (蔡英文) yesterday congratulated Deputy Legislative Speaker Hung Hsiu-chu (洪秀柱) for surpassing the required 30 percent approval rating threshold in the Chinese Nationalist Party's (KMT) presidential primary process, and urged her to persuade her colleagues at the legislature to support lowering the legal voting age to 18.
"I would like to extend my congratulations to Hung for the very good result in the poll. It is a very big responsibility and a heavy burden to win the party's nomination," Tsai said on Facebook. "As a female politician, I would like to extend my sincerest wishes."
Tsai said that althogh Hung had released a video clip expressing her support for lowering the voting age to 18, "unfortunately, the constitutional amendment that would make it happen might never pass the legislature, since the KMT caucus insists on tying it to other amendment proposals."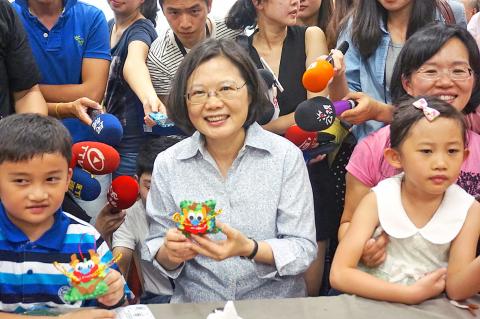 Democratic Progressive Party (DPP) Chairperson Tsai Ing-wen, center, yesterday attends a local campaign for a DPP legislature candidate in New Taipei City.
Photo: Chang An-chiao, Taipei Times
"At this critical junction, I hope that Hung uses her influence to persuade her colleagues in the Legislative Yuan to stop obstructing the development of civil rights for young people," Tsai said.
Tsai said she welcomed the participation of young people in public affairs, and that the Sunflower movement and the debate over the Ministry of Education's plan to adjust high-school curriculum guidelines are evidence of young people's maturity and enthusiasm.
"Eighteen is an age full of hope and zeal — it is like the rising sun that can end the darkness and light up the nation's future," Tsai said. "We should allow them the civil rights that belong to them, so that they can provide momentum to push the nation forward."
Comments will be moderated. Keep comments relevant to the article. Remarks containing abusive and obscene language, personal attacks of any kind or promotion will be removed and the user banned. Final decision will be at the discretion of the Taipei Times.