Dome halt a lesser evil: Taipei
'ABSOLUTE MESS': While stopping construction of the Taipei Dome is dangerous, allowing it to continue is even riskier, Deputy Mayor Teng said
Halting the Taipei Dome's construction is the "lesser of two evils," Taipei Deputy Mayor Teng Chia-chi (鄧家基) said yesterday in a press conference outlining the city's safety concerns that led to the decision to order the Dome's contractor, Farglory Land Development Co (遠雄建設), to suspend construction.
"The Taipei Dome is an absolute mess," Teng said. "Even though halting construction is dangerous, allowing it to drag on is even more dangerous. The purpose of today's action is to force Farglory to present plans to ameliorate the situation."
Teng specifically cited cracks that have appeared at the neighboring historic Songshan Tobacco Factory, as well as ground movement next to the Taipei MRT's Bannan Line (板南), which runs next to the Dome site.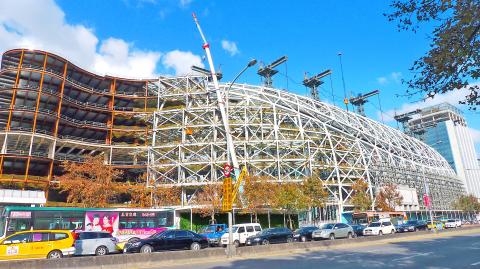 The partially completed Taipei Dome is pictured on Wednesday. Farglory Land Development Co yesterday issued a statement saying it will suspend construction on the Taipei Dome project in compliance with the Taipei City Government's order.
Photo: Yu Pei-chih, Taipei Times
The city issued the order to halt the construction on Wednesday night. Earlier that day, Taipei Mayor Ko Wen-je (柯文哲) said Farglory had repeatedly failed to provide a clear explanation of how it would address risks posed by construction to the MRT line and the old tobacco plant.
Ko yesterday said that the city government is to hold public hearings to solicit public opinions and arrive at a consensus on the future of the Dome.
Teng said that even though the city has demanded since February that Farglory provide plans to ameliorate the problem, all it had received were seven brief documents, along with a report on how to "restore" the tobacco factory site, with no discussion of how the ongoing damage would be stopped.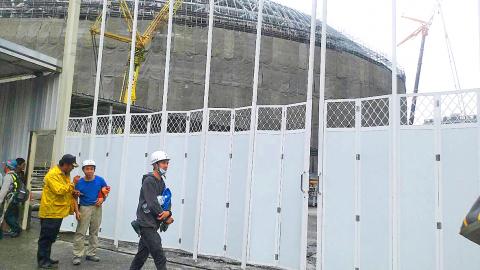 The main gate of the Taipei Dome construction site in Taipei is closed yesterday at noon following an announcement from Farglory Land Development Co that it will suspend construction in accordance with the Taipei City Government's order.
Photo: CNA
While the city government had previously agreed that construction should continue on the grounds that the Dome was unstable as long as its foundations were unfinished, Teng said that calling a halt was the "lesser of two evils," given the possibility of increased damage and danger if Farglory fails to alter its building methods.
Teng said ground safety in the area had to be stabilized immediately, with Farglory also responsible for continuing to monitor and remedy any site sinkage during the suspension period.
Farglory has the right to appeal the city's order, but it is still obligated to stop construction before any court ruling, he said.
He added that the city would be willing to permit construction in certain areas if they are needed for safety reasons, leaving open the possibility that construction on the site's foundations would soon resume.
If Farglory presents a plan for improving construction safety, it could be allowed to resume construction as soon as today, he said.
Meanwhile, following a meeting between Taipei City Urban Development Commissioner Lin Jou-min (林洲民) and Dome architect Stan Lo (羅興華) yesterday, officials from the city's Construction Management Office conducted an inspection of the Dome site to verify that construction had been halted and evaluate whether construction on parts of the structure should be allowed to continue for safety reasons.
Lin said a decision on the issue would be made today following a meeting between city officials and representatives of Farglory and several business associations.
He said that what was being considered was allowing "pre-approved construction" rather than allowing construction, partial or otherwise, to resume, citing an article from the Taipei Construction Management Articles (台北市建築管理自治條例) that allows for construction on underground levels for safety reasons to continue during a construction halt.
Lin avoided questions as to how the city would address 81 points of unauthorized site construction discovered during a previous site inspection.
He also refused to answer questions on whether Farglory would be able to continue construction without delivering an official report on new construction safety measures.
Additional reporting by CNA and Shih Hsiu-chuan
Comments will be moderated. Keep comments relevant to the article. Remarks containing abusive and obscene language, personal attacks of any kind or promotion will be removed and the user banned. Final decision will be at the discretion of the Taipei Times.