US' Kerry meets Chinese leaders, vows tough line
MEDIA RESPONSE: The Xinhua news agency said Washington is playing the hypocrite, as it is not part of disputes in the area and it has ulterior motives
US Secretary of State John Kerry and US Department of State officials yesterday met Chinese leaders, vowing a tough line over Beijing's island-building in disputed waters.
The US is weighing sending warships and surveillance aircraft within 12 nautical miles (22.2km) — the normal territorial zone around natural land — of artificial islands that Beijing is building in the South China Sea.
Such a move could lead to a standoff in an area home to vital global shipping lanes and believed to be rich in oil and gas deposits.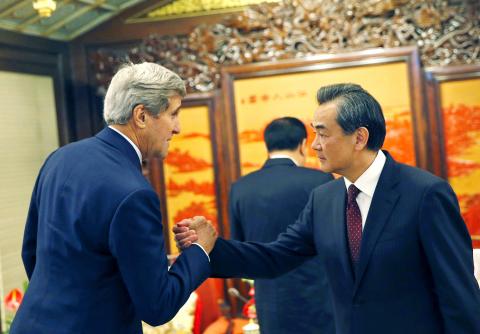 US Secretary of State John Kerry, left, shakes hands with Chinese Minister of Foreign Affairs Wang Yi, at the Zhongnanhai Leadership Compound in Beijing yesterday.
Photo: AFP
The world's top two economies have significant commercial ties and Chinese President Xi Jinping (習近平) is due to pay a state visit to the US in September.
However, China's ambitions for a place on the world's political stage commensurate with its economic role have seen it cross the US in multiple fields, and the two have long-running disputes over issues ranging from trade to cyberespionage to human rights.
Kerry's first meeting was with Chinese Minister of Foreign Affairs Wang Yi (王毅), and he met senior political and military leaders later.
Pentagon officials last week revealed that China is building artificial islands on South China Sea coral reefs — which are also claimed by Taiwan — at an unprecedented pace, in a land reclamation effort dubbed a "great wall of sand" by one US commander.
The rapid construction amounts to 800 hectares, with 75 percent of the total created in the past five months alone.
Department officials said ahead of the talks in Beijing that Kerry would "reinforce ... the very negative consequences on China's image, on China's relationship with its neighbors, on regional stability, and potentially on the US-China relationship" of Beijing's activities in the sea.
Beijing claims nearly all of the South China Sea, even waters close to the coasts of other littoral states, on the basis of a segmented line dating back to Chinese maps of the 1940s, known as the "nine-dash line."
One official said Kerry would "leave his Chinese interlocutors in absolutely no doubt that the United States remains committed to maintain freedom of navigation."
"That's a principle that we are determined to uphold," the official added.
US officials say Washington needs to send a clear signal about China's dredging activities around the Spratly Islands (Nansha Islands, 南沙群島) and other disputed territories, although they want to calibrate any military operation to avoid triggering a crisis.
They also stress that according to the UN Convention on the Law of the Sea, only natural land masses create a territorial claim, not artificial islands.
"You can't build sovereignty," an official said.
However, the US has never ratified the convention itself.
The US is China's second-biggest trading partner after the EU, with trade between the two worth US$555 billion last year, according to Chinese customs figures.
Beijing is the heavily-indebted US government's biggest foreign creditor, figures from Washington showed on Friday, reclaiming top spot from Japan with more than US$1.26 trillion in Treasury bonds.
China defends the island-building as taking place within its own territory and intended to enhance its ability to carry out international obligations such as search and rescue.
In a commentary ahead of yesterday's talks, China's Xinhua news agency said the US is guilty of "thinly veiled hypocrisy."
"The United States is not a party in the South China Sea disputes, which are between China and other claimants and should be handled by those directly involved," it said.
"Washington has no valid grounds whatsoever to point an accusing finger at Beijing over the South China Sea. Instead, it needs to look at itself in the mirror," it said, accusing the US of seeking "a pretext to maintain its hegemonic presence in the region."
The US is in the process of a foreign policy "pivot" toward Asia.
Comments will be moderated. Keep comments relevant to the article. Remarks containing abusive and obscene language, personal attacks of any kind or promotion will be removed and the user banned. Final decision will be at the discretion of the Taipei Times.