Wang indicates no presidential bid
PEER PRESSURE? The legislative speaker's call for unity within the KMT has prompted speculation he faced pressure from others in the party not to vie for the presidency
Legislative Speaker Wang Jin-pyng (王金平) yesterday expressed "gratitude and apologies to those who have high expectations" of him, saying that he is not able to shoulder a "weighty mission," which has been interpreted as him announcing he will not contest the Chinese Nationalist Party's (KMT) presidential primary.
Wang called for party unity, saying "an individual's honor or humiliation is a trivial matter."
"The solidarity of the KMT is not a question for one person or a party calculation, but for all Taiwanese and the continuation of the Republic of China," Wang said.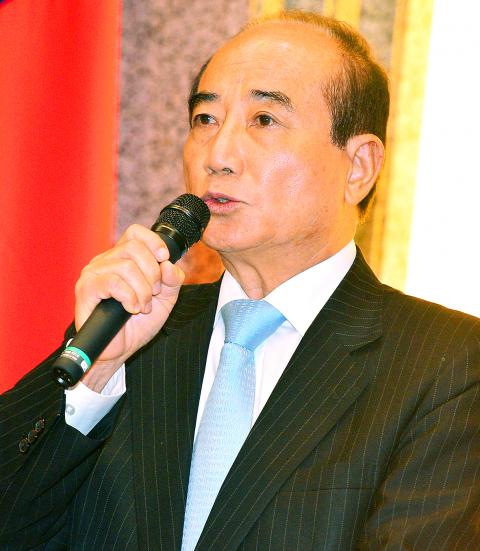 Legislative Speaker Wang Jin-pyng speaks in Taipei yesterday.
Photo: Wang Yi-sung, Taipei Times
"Taiwan is now deeply embroiled in tumult and distress, and only when the ruling party shows unity can society's rift be stopped," he said. "[I] will act as a seed of solidarity for our future generations."
"The election is a one-time thing. We cannot damage our soft power for the sake of winning it," he said.
KMT Legislator Lu Chia-chen (盧嘉辰), who has long been regarded as pro-Wang, backed the speaker on his call for solidarity.
"The speaker did not pick up the application [for the party's primary] in order to secure party solidarity, the stability of the nation and the stable development of cross-strait relations," Lu said. "We respect his decision."
When asked whether the emphasis on solidarity indicated that there has been disharmony within the party or that Wang had faced pressure from party members, Lu said: "[We] have a clear sense of it [while it was not made explicit]. For [the party's] solidarity, what needs to be done is to gnash the teeth and swallow any broken ones."
"For the sake of solidarity, the humiliation and burden that needed to be borne has to be borne," Lu added, implying that Wang's aspirations have been suppressed. "This is my personal view though. We should give credit to the speaker for discerning right from wrong."
Speculation has been rife that Wang did not join the primary because of obstruction from President Ma Ying-jeou (馬英九).
Deputy Legislative Speaker Hung Hsiu-chu (洪秀柱), who has signed up for the primary, said that rumors had been deliberately spread by unidentified sources, "making some who had intended to join the primary back out."
"Wang's statement could be seen as conveying what he has felt recently," Hung said.
Democratic Progressive Party Legislator Chen Chi-mai (陳其邁) said that "solidarity" — which was mentioned five times in Wang's three-minute statement — was directed at Ma because "both the rhetoric of solidarity and how it is 'not for one person's benefit' was a slap in Ma's face."
Chen said that in Wang's statement, there was no wording that said he was "not running for president."
Meanwhile, as the primary is set to take place without any senior KMT members participating, with KMT Chairman Eric Chu (朱立倫) and Vice President Wu Den-yih (吳敦義) having declared they do not intend to run, the possibility of the KMT using its "draft" mechanism has become more likely.
"It would not look good if we have to resort to a draft, but if that is what has to be done, then a draft it is," KMT caucus whip Lai Shyh-bao (賴士葆) said.
Hung said that the KMT, "especially Chu, would not be able to bear the pressure if a draft was used, as it would set tongues wagging and draw condemnation from the public, affecting next year's presidential and legislative election campaigns, and causing the party to crumble."
Comments will be moderated. Keep comments relevant to the article. Remarks containing abusive and obscene language, personal attacks of any kind or promotion will be removed and the user banned. Final decision will be at the discretion of the Taipei Times.