Flying shoes, bottles welcome Chu
Flying shoes and empty water bottles greeted Chinese Nationalist Party (KMT) Chairman Eric Chu (朱立倫) as he returned from his three-day visit to China early yesterday morning, with protesters at Taiwan Taoyuan International Airport taking aim at the party leader.
Led by the Taiwan Solidarity Union (TSU) youth division, the protesters decried Chu's trip as "selling out" Taiwan, saying that his meeting with Chinese President Xi Jinping (習近平) betrayed national interests.
Security personnel used large black umbrellas to shield Chu from the projectiles as the KMT delegation crossed the arrival hall; other staff stopped protesters before they could take further action.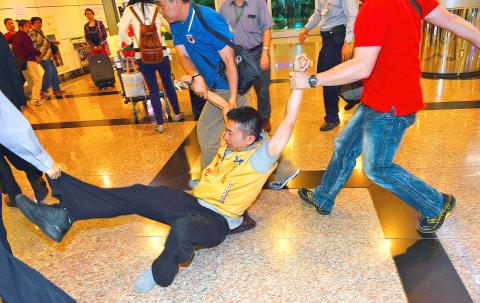 Taiwan Solidarity Union legislative candidate Chang Chao-lin is carried away by what seems to be plainclothes security personnel at Taiwan Taoyuan International Airport yesterday after attempting to throw a shoe at Chinese Nationalist Party (KMT) Chairman Eric Chu upon his return from a three-day visit to China.
Photo: Yao Kai-shiou, Taipei Times
While police officers restricted most demonstrators to a small zone outside Terminal 2, others disguised as passengers entered the arrival lobby for closer demonstrations against Chu.
Chu's flight was delayed and did not touch down until shortly after midnight yesterday.
TSU Department of Organization head Tsai Feng-wen (蔡豐文) said that the KMT has backpedaled on its past staunch anticommunist stance to please Chinese authorities, adding that Chu's actions signify an abandonment of Taiwan's national sovereignty.
Separately, the new Social Democratic Party (SDP) also lashed out at Chu's Beijing visit, questioning the KMT chairman's legitimacy as a representative to engage in negotiations with China on behalf of Taiwanese.
The cross-strait policies of President Ma Ying-jeou's (馬英九) administration were evidently derived from conclusions made during the first KMT-Chinese Communist Party (CCP) forum in 2005, SDP legislative candidate Miao Po-ya (苗博雅) said at a news conference in Taipei.
"We can see that the KMT-CCP forum is clearly not simply a meeting between two political parties. Basically, they are determining the nation's cross-strait policies in an under-the-table manner," Miao said, adding that the forums fail to adhere to a democratic process.
"The KMT administration evidently aims to utilize such unofficial channels that remain free of public oversight to determine the development of diplomatic policies between the two nations," Miao said.
SDP legislative candidate Lee Yen-jong (李晏榕) said that cross-strait talks should be conducted through intergovernmental channels between the Republic of China and the People's Republic of China.
"Aside from a failure to distinguish between the party and the state, Chu's vision of cross-strait treaties is one that bars citizens from participation," Lee said.
She criticized the government's proposed bill for an oversight mechanism for cross-strait treaties, saying that it prevents meaningful oversight and could not prevent the abuse of power.
She urged legislators to support a version of the bill submitted by civic groups, saying that the government's draft contained a clause in which administrative orders related to cross-strait affairs can be automatically legalized if they are not reviewed by the legislature within three months.
Meanwhile, a coalition of pro-independence groups headed by the Northern Taiwan Society described Chu's visit to China as a "black-box deal" that lacked transparency.
Taiwan Nation Alliance chairman Wu Shu-min (吳樹民) said that many people initially had high expectations of Chu, because when he was running for the KMT chairmanship late last year, he said he would look into the controversial issue of KMT party assets.
However, not only has Chu failed in his handling of the party's assets, he is also selling out Taiwan to China, Wu said, referring to remarks Chu made during his meeting with Xi in which Chu described the so-called "1992 consensus" as both sides belonging "to one China, but with each side ascribing different contents and definitions to the concept of 'one China.'"
Chu's actions prove the slogan used during the Sunflower movement that: "Unless the KMT falls, Taiwan will never do well (國民黨不倒,台灣不會好)," Wu said.
Additional reporting by Chen Hui-ping
Comments will be moderated. Keep comments relevant to the article. Remarks containing abusive and obscene language, personal attacks of any kind or promotion will be removed and the user banned. Final decision will be at the discretion of the Taipei Times.