KMT-CCP FORUM: Xi touts 'one China' with solicitous Chu
NAME GAME: Chinese President Xi Jinping said the two sides should settle political differences through 'equal consultations,' Xinhua news agency reported
Chinese Nationalist Party (KMT) Chairman Eric Chu (朱立倫) said yesterday in Beijing that he hopes Taiwan and China will continue to work together based on the so-called "1992 consensus" and help increase cooperation between future generations.
In his opening remarks at a high-level meeting between the KMT and the Chinese Communist Party (CCP) — his first meeting with Chinese President and CCP General Secretary Xi Jinping (習近平) — Chu described the "1992 consensus" by saying that "both sides of the Taiwan Strait belong to 'one China,' but with each side ascribing different contents and definitions to the concept of 'one China.'"
"Hopefully the two sides can promote cooperation based on the 1992 consensus and work together on issues such as regional peace, environmental protection and economic cooperation," said Chu, who assumed chairmanship of the KMT in January.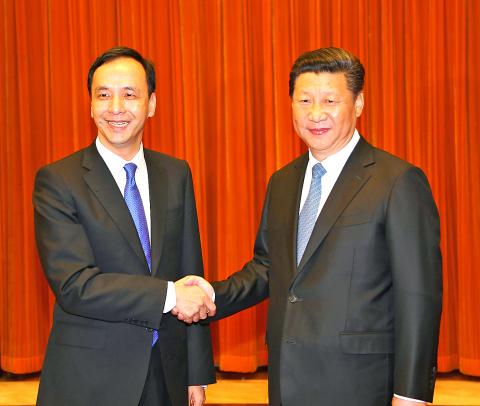 Chinese Nationalist Party (KMT) Chairman Eric Chu, left, shakes hands with Chinese President Xi Jinping in the Great Hall of the People in Beijing, China, yesterday.
Photo: EPA/KMT
Taiwan and China "can present our ideals together in the Asia-Pacific region and make a contribution," he said. "And this would be making a contribution to the future development of cross-strait relations, or the deepening of the 1992 consensus and the promotion of cooperation between our future generations."
Taiwan's younger generation would like to see the two sides work together on efforts to promote regional economic integration, including the Beijing-initiated Asian Infrastructure Investment Bank (AIIB); the "One Belt, One Road" trade initiative and the Regional Comprehensive Economic Partnership, Chu added.
Meanwhile, Xi said that cross-strait relations have reached a new and important point and would "impact the Chinese nation and the country's future."
Over the past decade, Taiwan and China have moved from an intense standoff on the edge of war to peaceful interaction, a development that has benefited both sides and won global recognition, he said.
The KMT and CCP should continue to build exchanges and explore new visions for people on both sides of the Taiwan Strait, Xi said.
Xinhua news agency reported that Xi also told Chu that the two sides should settle political differences through "equal consultations."
"The two sides can consult with each other on an equal basis under the principle of 'one China,' and reach a reasonable arrangement," Xi was quoted as saying.
Beijing's "one China" policy holds that there is only one China and that Taiwan is part of it.
Xi was quoted by Xinhua as saying that both parties "should be brave when facing lingering political differences and difficulties, pool the wisdom of compatriots of both sides and actively search for a solution."
China would ensure more economic opportunities for the people of Taiwan, adding that "our efforts to open up to Taiwanese compatriots will be bigger," Xi said.
"Taiwan has expressed interest in joining in the Asian Infrastructure Investment Bank, which we welcome," Xi was also quoted by Xinhua as saying.
China last month rejected Taiwan's bid to become a founding member of the AIIB, although Beijing said Taiwan is welcome to join as an ordinary member — if it used an "appropriate name."
The official name of Taiwan's government is the Republic of China, but the International Olympic Committee refers to it as "Chinese Taipei," while in the Asian Development Bank it is known as "Taipei, China."
The talks began at 10:30am at the Great Hall of the People in Beijing and ran for about an hour; each side brought a 10-member delegation.
Chu, also New Taipei City mayor, has repeatedly said that he would not join the race for January's presidential election, but he remains the most promising potential pan-blue camp candidate to rival Democratic Progressive Party Chairperson Tsai Ing-wen (蔡英文).
Comments will be moderated. Keep comments relevant to the article. Remarks containing abusive and obscene language, personal attacks of any kind or promotion will be removed and the user banned. Final decision will be at the discretion of the Taipei Times.