Thousands told to move out of storm's path in Philippines
APPROACHING: Residents and tourists were evacuated as the off-season storm — which is what remains of Typhoon Maysak — is set to make landfall this morning
The Philippine weather bureau yesterday downgraded Typhoon Maysak into a storm as thousands of people were told to leave the country's northeastern coastline, where it was headed from the Pacific after killing four people and destroying hundreds of homes in Micronesia.
The bureau said winds and rains were to start lashing the eastern seaboard of the main island of Luzon last night before the storm makes landfall early today.
The bureau changed the category of Typhoon Maysak to a tropical storm after its sustained winds weakened to 115kph with gusts of 145kph at about 4pm.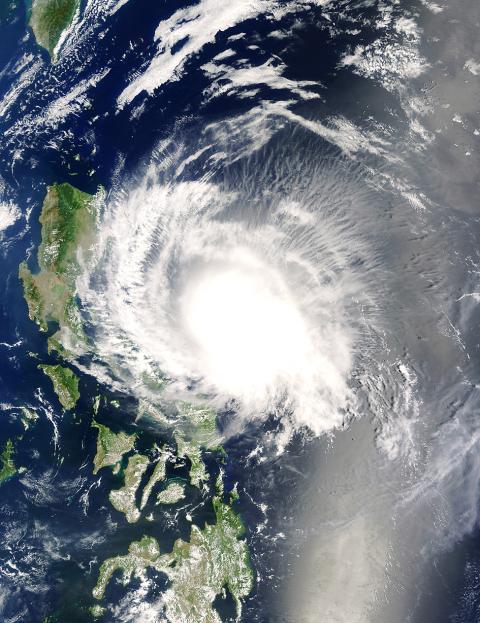 This NASA satellite image shows Typhoon Maysak over the Philippines on Saturday.
Photo: AFP
Under the Philippine weather system, only cyclones with sustained winds of 118kph or higher are classified as typhoons.
The off-season storm comes as the nation marks Holy Week, when many local and foreign tourists visit beach resorts, including popular surfing areas in the north.
Social Welfare Assistant Secretary Cheche Cabrera said that in Aurora Province alone, which faces the Pacific and lies in the storm's path, about 10,000 visitors were told to leave beach resorts and inns.
Maysak, first forecast as a super typhoon, left a path of destruction in Micronesia, sweeping through Chuuk State's numerous islands and passing just north of Yap State's outer islands on Wednesday. The storm killed four people and caused extensive damage.
Philippine Civil Defense Administrator Alexander Pama said the critical hours would come overnight.
"We need to double up the preparations because it is harder to move around in the dark," he said.
While it was still a typhoon, Maysak threatened to affect 33 cities and close to 500 towns in more than two dozen provinces, according to Phillipine Interior and Local Government Undersecretary Austere Panadero.
On Friday, Mayor Nelianto Bihasa of Baler, the capital of Aurora Province, ordered all tourists in resorts to leave or face forced evacuation.
He also told resort owners to advise guests headed to Baler to postpone trips.
About 20 storms and typhoons enter the Philippines yearly. In November 2013, Typhoon Haiyan, the strongest on record to make landfall, devastated the central Philippines, killing more than 7,300 people.
Comments will be moderated. Keep comments relevant to the article. Remarks containing abusive and obscene language, personal attacks of any kind or promotion will be removed and the user banned. Final decision will be at the discretion of the Taipei Times.