Former airline boss, facing charges, reported dead
Former Far Eastern Air Transport Corp (FAT, 遠東航空) chairman Stephen Tsuei (崔湧), who fled the country soon after being indicted in 2008 on breach of trust and other charges, was reported to have committed suicide in the US last week, the Ministry of Justice said this week.
The ministry said that it had received information that Tsuei died in his house in Connecticut on Wednesday last week, adding that it is in the process of obtaining a death certificate from the US government through the Ministry of Foreign Affairs.
The airline's current management said in a statement on Thursday night that it only learned about Tsuei's death from news reports, adding that Tsuei had taken full responsibility for the charges against him, and that it was regrettable that he ended his life after absconding so many years ago to avoid penalties.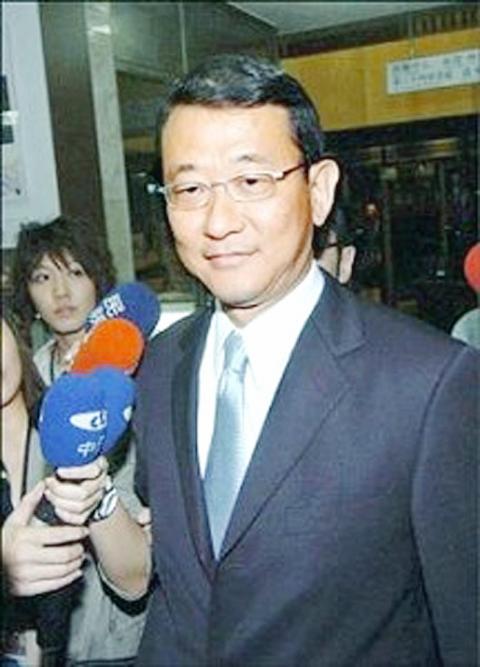 Former Far Eastern Air Transport Corp chairman Stephen Tsuei talks to reporters in this undated photograph.
Photo: Hsiang Cheng-chen, Taipei Times
FAT chairman Chang Kang-wei (張綱維) said in a statement yesterday that Tsuei had been willing to return to Taiwan at an appropriate time to disclose the details of the scandal, adding that Tsuei had harbored many grievances over the charges because accomplices in the scandal had passed the buck to him.
The truth might now never come to light, Chang said, adding that the company would continue to seek justice through the legal system.
Tsuei and several other people in managerial positions at FAT were indicted in August 2008 on charges of contravening the Securities and Exchange Act (證券交易法) and breach of trust, among other crimes, after the Taipei District Prosecutors' Office found conclusive evidence that they had caused the domestic airline to suffer losses of about NT$2.3 billion (US$73.5 million) by selling shares of an FAT subsidiary at unreasonably cheap prices, deliberately delaying the collection of payment from another partner airline and embezzling corporate funds.
Tsuei was released on bail of NT$90 million. He and former FAT president Philip Chen (陳尚群) left the country in 2009 and 2011 respectively. The Taipei District Court later promulgated orders for the arrest of Tsuei and Chen.
In September 2012, the court returned a not guilty verdict for Benny Hu (胡定吾), another former FAT chairman charged in the embezzlement case.
Other defendants, including former FAT finance division deputy manager Robert Wu (吳勇璋) and Alex Lou (樓文豪), who was in charge of the Taiwan branch of Cambodia's Angkor Airways Corp, were sentenced to between two and seven years in jail for breaching the Securities and Exchange Act and the Business Entity Accounting Act (商業會計法).
However, the trial has yet to be finalized.
Born in 1957, Tsuei had a bachelor's degree in civil engineering from National Taiwan University and had a master's degree in architecture from Harvard University and a Master of Business Administration from the Massachusetts Institute of Technology.
While working for American International Group, Tsuei returned to Taiwan and sought targets for investment. The group later became the largest shareholder of FAT, controlling about 20 percent of the company's shares.
Comments will be moderated. Keep comments relevant to the article. Remarks containing abusive and obscene language, personal attacks of any kind or promotion will be removed and the user banned. Final decision will be at the discretion of the Taipei Times.