Presidential, legislative polls to be combined: CEC
The Central Election Commission (CEC) yesterday announced its final decision to combine the presidential and legislative elections next year, to save money and increase voter turnout.
"CEC members decided during a meeting today that the 14th presidential and the 9th legislative elections [next year] shall be held on the same day," CEC Chairman Liu I-chou (劉義周) told a press conference after the meeting. "As for the date of the elections, the CEC will call a meeting with local election commissions to decide."
Although a date has not been set, the elections are likely to be held in January next year, before the start of a new legislative session the following month.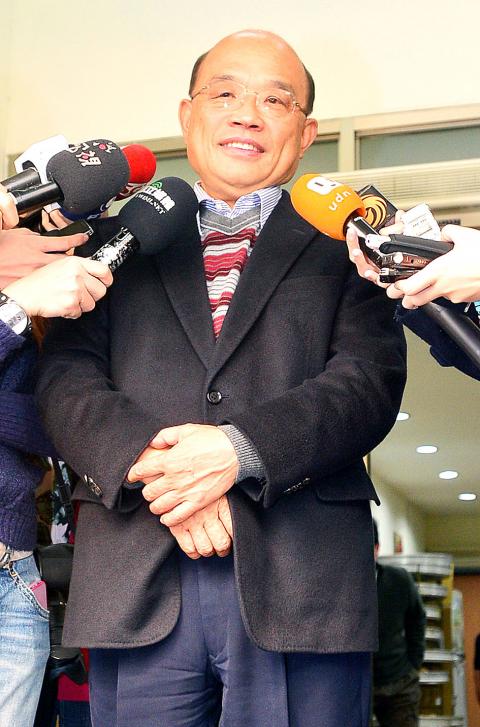 Former Democratic Progressive Party chairman Su Tseng-chang speaks at a press conference yesterday in Taipei, announcing that he will not stand as a candidate for next year's presidential election.
Photo: Wang Yi-sung, Taipei Times
Liu said that according to three public hearings and an opinion poll, most people support combining the elections.
"Holding the two elections on the same day can help save money and social resources by avoiding repeated large-scale political mobilizations within a short time," he said. "Moreover, compared with the 2008 presidential and legislative elections — which were held separately — the number of voters in the 2012 combined elections rose by about 3.3 million."
Liu said the decision was also made to ensure policy continuity, since the 2012 presidential and legislative elections were held on the same day, as were last year's nine-in-one elections.
Liu said concerns raised by Chinese Nationalist Party (KMT) Chairman Eric Chu (朱立倫) over the large gap between the elections in January and the presidential inauguration on May 20 would not be a problem.
"The nation has its own laws and systems to deal with the issue," Liu said. "Besides, there would also be an empty period if the presidential election is postponed."
Democratic Progressive Party (DPP) Legislator Wu Ping-jui (吳秉叡) welcomed the decision, saying that combined elections might save the nation up to NT$500 million (US$15 million).
Meanwhile, DPP spokesperson Cheng Yun-peng (鄭運鵬) urged the commission to draft laws and regulations to institutionalize combined legislative and presidential elections to avoid more debates on the issue.
KMT Legislator Lai Shyh-bao (賴士葆) said he respected the commission's decision, adding that he did not think the change would make much difference to the party.
Comments will be moderated. Keep comments relevant to the article. Remarks containing abusive and obscene language, personal attacks of any kind or promotion will be removed and the user banned. Final decision will be at the discretion of the Taipei Times.