Taipei military complex opened
PROTESTERS OUTSIDE: Ministry official Huang Te-hsiao said the Taipei complex's security features are 'more powerful and more advanced' than the Pentagon's
The new Ministry of National Defense headquarters complex was officially opened yesterday in Taipei's Dazhi area (大直), touted by senior military figures and government officials as having state-of-the-art security installations and adopting a "green building concept."
The main building consists of eight floors, along with several annex buildings. Construction started in 1996, and has taken 18 years to complete, as the project was delayed due to several problems and legal wrangling.
In his address, Minister of National Defense Yen Ming (嚴明), who presided over the opening ceremony yesterday, said the complex represents "a new milestone," and from now on the Dazhi area with the relocated ministry and armed forces headquarters has become the "new Boai Military District" (博愛營區).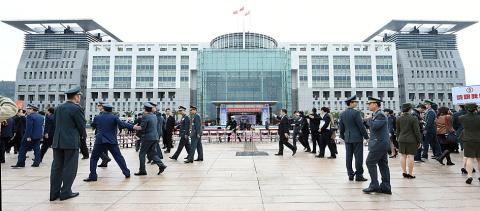 People gather in front of the Ministry of National Defense's new compound in Taipei's Dazhi area on its official opening day yesterday.
Photo: Chang Chia-ming, Taipei Times
Ministry of National Defense Armaments Bureau section head Huang Te-hsiao (黃德孝) said the new complex incorporates "green building concepts" with environmentally friendly, energy-saving designs.
"The new buildings have rainwater harvesting facilities. Up to 1,000 tonnes of rainwater can be stored on site. There are also wastewater treatment and filtering systems," said Huang, whose section was in charge of constructing the water system.
He added that by using aluminum and other materials in the exterior glass-wall design, "we are able to reduce thermal heating from direct sunlight by blocking out most infrared and low-frequency radiation."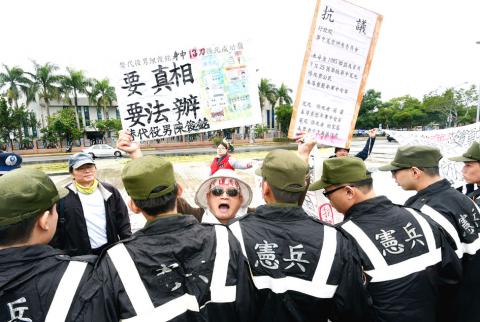 Activists promoting human rights in the military protest yesterday outside the Ministry of National Defense's new compound in Taipei's Dazhi area.
Photo: Chang Chia-ming, Taipei Times
Huang also praised the state-of-the-art security system and safety measures of the new complex, calling them "more advanced and powerful than those of the Pentagon," without elaborating.
He said all personnel and vehicles entering and exiting the ministry buildings must go through security checkpoints, at which their identification cards are verified against photographs and a biometric identification system.
"Each individual and vehicle must have a file on the security database. The digital informatics system can verify their identity within seconds," Huang said. "On high-security floors, individuals are checked with fingerprint and eye scanners."
After numerous delays to the project, some legislators and public officials were severely critical of budget overruns, which ballooned to NT$15.8 billion (US$497.65 million).
Although President Ma Ying-jeou (馬英九) was invited to the opening ceremony, he did not attend.
According to media reports, Ma did not attend because votes by military personnel and their dependents failed to materialize for the Chinese Nationalist Party's (KMT) candidates in last month's nine-in-one elections.
Meanwhile, family members of several soldiers who died during their service in the military protested outside the new compound, demanding more transparency in investigations into physical abuse in the military.
Carrying portraits of deceased soldiers, protesting parents and their supporters decried what they said was the military's disregard for human rights.
The protest was led by the parents of four soldiers who died while serving, which included conscripts for mandatory service, as well as voluntary servicemen.
Members of the Taiwan National Party also showed their support.
Yu Jui-ming (尤瑞敏), the mother of Tsai Hsueh-liang (蔡學良), an air force staff sergeant who died during target practice in 2008, said the military has not revealed the truth.
While military investigators said that Tsai committed suicide, Yu said their report contradicts case evidence.
She staged a hunger strike in May, urging a ballistics test.
"Taiwan is not at war right now; nobody's son should die in the military," Yu said. "I do not understand how the ministry has the nerve to spend so much taxpayer money on this new 'palace.'"
"Each death is like a brick. When you stack them up together, they will be much stronger than the walls of this compound," Lin Ming-i's (林明逸) father said, adding that his son died from military hospital malpractice in 2002.
Parents of dead soldiers are demanding answers, Lin's father said.
"It is very difficult for the parents, but we will no longer sulk in the shadows. More are joining our search for the truth," he added.
Family members of army sergeant Lien Chih-wei (連志偉) and substitute civilian serviceman Chen Chun-ming (陳俊銘), who passed away in 2005 and 2012 respectively, also attended the protest.
Ministry statistics last year showed that 2,088 men and women died in service between 2000 and 2012, although parents say the number is much higher.
Comments will be moderated. Keep comments relevant to the article. Remarks containing abusive and obscene language, personal attacks of any kind or promotion will be removed and the user banned. Final decision will be at the discretion of the Taipei Times.