Taipei's Ko Wen-je takes firm line with new hires, reaffirms selection process
Taipei mayor-elect Ko Wen-je (柯文哲) yesterday defended his city official appointment decisions amid accusations that he is breaking his promises of transparency and selection through collective decisionmaking, and insisted that he has played by the rules, saying that he is upset about the protests.
Since Ko's election at the end of last month, his appointments of city officials — including directors for the departments of labor, cultural affairs, environmental protection and social affairs — have been followed by protests from selection committee members who have characterized the selection process as opaque and defective.
The latest protest came on Saturday, when the selection committee chair for the director of the department of cultural affairs, Chen Chi-nan (陳其南), published an open letter to Ko, saying that — while he trusted Ko — people around him might be trying to hide things from him. Chen hinted that director-to-be Ni Chong-hua (倪重華) might have "cheated" to get the appointment.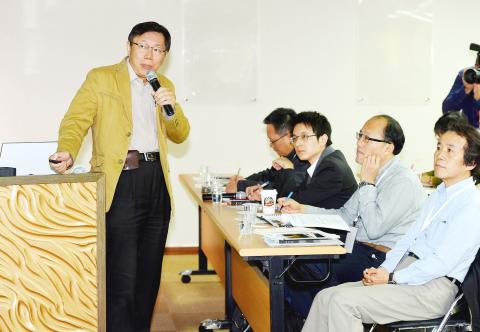 Taipei mayor-elect Ko Wen-je delivers a policy presentation yesterday at an all-day conference for his incoming Taipei City Government team.
Photo: Lo Pei-der, Taipei Times
Chen wrote that Ni had arranged for "his people" to be on the committee, to make sure that he would become one of the three finalists from whom Ko and his close associates would choose the director.
"I do not know how to answer the question; isn't he [Chen] the head of the selection committee?" Ko said when asked to comment on Chen's accusations outside a training event for his incoming city government team in Taipei yesterday. "I would say that some good accomplishments would be the best answer to these questions."
Ko said that he and his inner circle have chosen from the three finalists endorsed by the selection committee for the cultural affairs role, and that they were not informed of the scores that each candidate received in the committee vote. While professional capacity is a priority, whether a person would work well with others in the administrative team is also a key factor in selection, he added.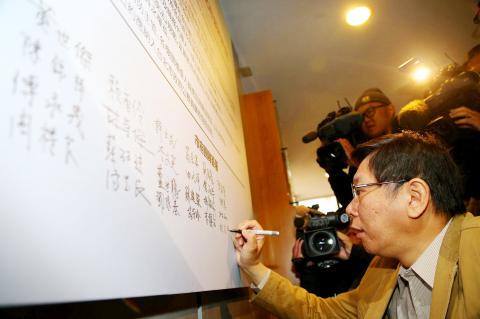 Taipei mayor-elect Ko Wen-je signs a pledge on maintaining a transparent government yesterday at an all-day conference for his incoming Taipei City Government team.
Photo: CNA
Ko appeared to take a harsher stance with the future city officials during the training session.
He said that, though some of the former selection committee members asked him to reconsider some appointments: "I am a very determined person, and since the appointments have been announced, I will not make any changes."
"These past few days, I have been thinking that maybe I should call these very important people [who protested]. I have not done so yet, because I am upset," Ko said. "I will think about it."
Ko also reminded the officials-to-be that — to work as a team — everyone must be honest, so that they trust each other.
"Everyone has one chance to lie to me — and that is before I discover that you lie to me," Ko said. "If I find out that you have lied to me, you are finished. I will never have you on my team again."
He said that he would always make decisions supported by evidence.
"Do not tell me that you heard someone saying something. I hate that. If you want to convince me of something, show me the statistics and hard evidence," Ko said.
Comments will be moderated. Keep comments relevant to the article. Remarks containing abusive and obscene language, personal attacks of any kind or promotion will be removed and the user banned. Final decision will be at the discretion of the Taipei Times.