Unseated Japanese opposition leader Kaieda steps down
The leader of Japan's largest opposition party stepped down yesterday after losing his seat in Sunday's election drubbing.
Banri Kaieda, who led the Democratic Party of Japan (DPJ) to its third consecutive thrashing at the polls, was among the casualties on a dreary night for Japanese Prime Minister Shinzo Abe's main opponents.
Abe's ruling coalition waltzed home with 326 seats — a two-thirds majority — while the DPJ managed 73, only up 11 over last time and a long way off the numbers that gave the party control of the legislature between 2009 and 2012.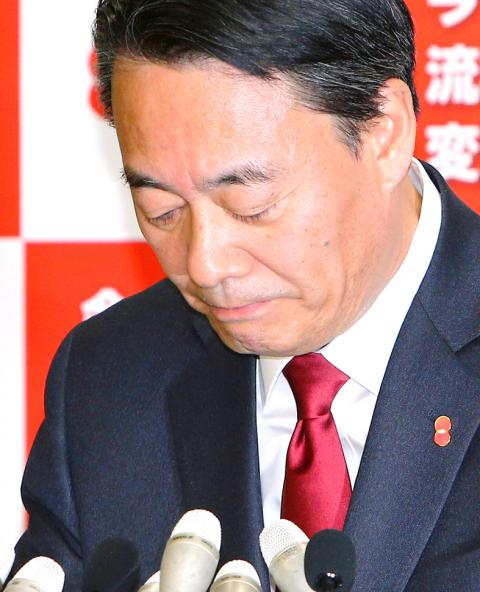 Japanese politician Banri Kaieda announces his resignation as leader of the Democratic Party of Japan at the party's headquarters in Tokyo yesterday.
Photo: AFP
"I decided to resign as the DPJ leader when it was confirmed I lost my seat before dawn today [yesterday]," Kaieda told a news conference.
"During an across-the-nation campaign... I heard voices of people who said: 'Please stop the Abe government' ... but our tally of seats is not enough," he said.
While Abe billed the election as a referendum on his economic management, where policy measures have sent the yen plunging and the stock market soaring, most commentators agree that the unpopularity of his opponents was a big factor in his victory.
The DPJ, elected in 2009 on a wave of optimism after more than half a century of almost unbroken rule by the Liberal Democratic Party, governed haphazardly until 2012 under three prime ministers.
"I heard voters saying: 'It's been only two years; we remember what had happened two years ago,'" Kaieda said, when asked about the reason for the party's rout.
While Abe's approval ratings remain solid at about 40 percent, there is disquiet over many of his policies, including his desire to restart nuclear reactors shuttered after the Fukushima Dai-ichi disaster and his penchant for playing down Japanese war crimes.
The opposition's failure to capitalize on these and other issues — which barely figured in the campaign — will be the cause of some soul searching.
"We deeply apologize to our supporters," the party said in a statement.
"The DPJ is still on its way to restoration and we will face a long uphill battle before receiving people's mandate, but we pledge we will come back in the next battle as a party that would be able to take a role in a two-party system," the statement added.
Comments will be moderated. Keep comments relevant to the article. Remarks containing abusive and obscene language, personal attacks of any kind or promotion will be removed and the user banned. Final decision will be at the discretion of the Taipei Times.