Occupy founders 'surrender,' urge HK protest retreat
DISOCCUPY: The architects of Occupy Central plan to turn themselves in today, but analysts say the call for pro-democracy protesters to fall back will be ignored
The original founders of Hong Kong's pro-democracy Occupy Central movement yesterday tearfully announced that they will "surrender" by turning themselves in to police, urging protesters to retreat.
Frustrated demonstrators at the territory's main protest site said they felt "abandoned" by the move from academics Benny Tai (戴耀廷) and Chan Kin-man (陳健民), and Baptist minister Chu Yiu-ming (朱耀明).
Their announcement came after hundreds of protesters clashed with police overnight on Sunday, leaving dozens injured in one of the worst nights of violence since rallies began in September.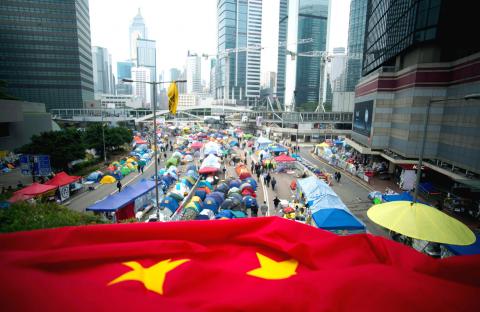 A Chinese flag lies folded over the Hong Kong pro-democracy movement's main protest site in Admiralty district yesterday.
Photo: AFP
"As we prepare to surrender, we three urge the students to retreat — to put down deep roots in the community and transform the movement," Tai said.
Tai said the trio would surrender to police today in a commitment to the rule of law and "the principel[s] of peace and love."
However, other protesters who have blocked three of Hong Kong's major intersections since late September to demand free leadership elections said they cannot leave until their demands have been met.
"The demand for civil nomination and true democracy has not been achieved and this site has not been cleared. Now they say they are turning themselves to police — the only thing I can say is that they abandoned us," a 17-year-old protester said.
"Now they talk about retreat. It is a betrayal of what we have insisted for all along," 24-year-old protester Raymond Tsang said.
Teenage protest leader Joshua Wong (黃之鋒) paid tribute to Tai and said the student groups leading the movement would "discuss" Occupy's request.
"If Benny Tai did not publicize the idea of civil disobedience at the beginning, then there would be no 'Umbrella movement' today," said Wong, who began a hunger strike on Monday in a last-ditch bid to force the government into further talks.
"Surrendering is not an act of cowardice; it is the courage to act on a promise. To surrender is not to fail, it is a silent denunciation of a heartless government," Tai said.
Tai said he did not know how police would respond to their surrender, but that the three were prepared for any consequences.
Experts say the students are not likely to heed the call for retreat.
"The students have always thought that they were the major protagonists of the movement and that Benny Tai and so forth have always been riding on their coattails," Chinese University of Hong Kong Professor Willy Lam (林和立) said, but added that this was still a turning point in the movement.
Comments will be moderated. Keep comments relevant to the article. Remarks containing abusive and obscene language, personal attacks of any kind or promotion will be removed and the user banned. Final decision will be at the discretion of the Taipei Times.