Sean Lien denies permits are due to fear of protests
Chinese Nationalist Party (KMT) Taipei mayoral candidate Sean Lien (連勝文) yesterday denied allegations that his campaign office's application to use the street in front of the office for 28 days was due to fears of protests.
The office has campaign events planned for the coming days, Lien said as he confirmed that his office had filed the application.
Lien said he was unsure why the office applied for 28 days, but was certain "it was not due to protests and rallies."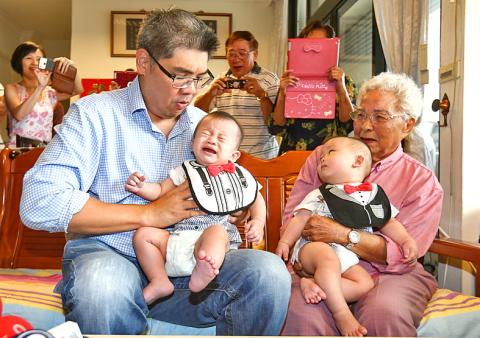 Chinese Nationalist Party (KMT) Taipei mayoral candidate Sean Lien, left, holds a baby on a visit to Taipei's oldest resident, Yeh Yang Mei-fen, yesterday.
Photo: CNA
Lin Kun-hu (林崑虎), chief secretary of the New Construction Office at the city's Public Works Department, confirmed on Wednesday that Lien's office had been granted the right to use the street in front of it from last Friday until Oct. 23.
Lien's campaign office is in three four-story buildings on Zhongxiao E Road Sec 2, near the intersection with Hangzhou N Road.
The permits means the road will be off-limits to protesters because a permit from the Taipei City Police Department for a rally is required beforehand, in accordance with the Assembly and Parade Act (集會遊行法).
Any protests taking place on the road during the period will be considered illegal.
According to sources, Lien's office is planning to apply for the right to the use the road until the election on Nov. 29 to ward off protests.
There have been elderly women lining up in front of City Hall overnight to ensure that the office is first in line to apply for a street use permit everyday, sources said.
By law, such an application must be filed not less than seven days, but no more than 30 days before the date on which an activity is due to take place. Each permit grants the applicant the use of the area for up to 48 hours.
Approached by reporters earlier this week, the applicants remained mum when they were asked who had employed them.
Asked whether the office had applied for the permits to keep protesters away, Chien Chen-yu (錢震宇), a spokesperson at Lien's campaign office, said: "You're way off."
"There could be campaign activity anytime," Chien said.
Lien's campaign office is no stranger to protests.
Since his campaign staff moved into the office in June, activists advocating equal rights for lesbian, gay, bisexual and transgender people have been staging protests against Lien due to his repeated refusals to meet with them.
Comments will be moderated. Keep comments relevant to the article. Remarks containing abusive and obscene language, personal attacks of any kind or promotion will be removed and the user banned. Final decision will be at the discretion of the Taipei Times.