Two Chinese surveillance planes blocked by Taiwan
INTRUDER ALERT: The surveillance planes flew through the corner of Taiwan's air defense zone to test the nation's capabilities and see how it would react, a military officer said
Two Chinese surveillance aircraft intruded into Taiwan's air defense identification zone (ADIZ) four times on Monday and were intercepted by Taiwanese fighter jets and escorted out of the zone each time, a senior air force official said yesterday.
In each incident, a single Y-8 electronic surveillance plane flew through the southwestern corner of Taiwan's defensive zone, where its position was identified by the Republic of China (ROC) Air Force, Air Force Combat Command Chief of Staff Major General Hsiung Hou-chi (熊厚基) said.
Two of the intrusions occurred in the morning on one sortie, when a Y-8 aircraft flew through the zone as it headed toward the Philippines and then flew back through the zone as it returned to China, Hsiung said.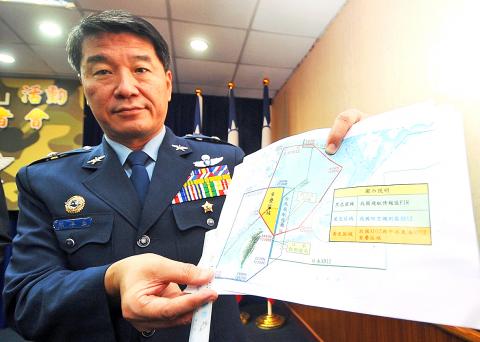 Air Force Combat Command Chief of Staff Hsiung Hou-chi yesterday shows reporters in Taipei a map of a Chinese military aircraft's intrusion into Taiwan's air defense identification zone and its interception by Taiwanese fighters.
Photo: Fang Pin-chao, Taipei Times
The pattern then repeated itself in the afternoon with a different plane.
Each intrusion lasted about 10 minutes, and they all occurred at altitudes of about 6,700m, he said.
They were the first intrusions into Taiwan's air defense zone this month by aircraft from another country, he said.
Mirage 2000 fighter jets were dispatched to intercept the Chinese aircraft in the morning and maintained visual contact until it left the zone, while Taiwan's Indigenous Defense Fighter jets were used in the afternoon intercepts, Hsiung said.
"We followed them closely to make sure they left our ADIZ," Hsiung said.
He declined to disclose the number of fighter jets scrambled for the intercepts.
The ADIZ is an indication of national sovereignty and Taiwan's military has an obligation to deal with any contingency involving the intrusion of foreign aircraft, he said.
The Chinese-language United Daily News cited an unidentified military officer as saying that Chinese aircraft had detoured in the past to avoid entering Taiwan's ADIZ.
By entering the air defense zone this time, the Chinese air force could test Taiwan's air surveillance capabilities and its reaction to intruders, the officer said.
Calling the action of the Chinese surveillance aircraft provocative, Democratic Progressive Party Legislator Chen Chi-mai (陳其邁) yesterday said that if the government does not protest to Beijing over the matter, China in the future may further overstep the line and threaten Taiwan's national defense.
The Chinese Ministry of Defense did not immediately respond to a request for comment.
The incident came amid speculation that China may set up an ADIZ in the South China Sea to assert its territorial claims.
Last year, it declared an ADIZ in the East China Sea that included islands also claimed by Taiwan and Japan.
Additional reporting by Chou Ssu-yu, AFP and Reuters
Comments will be moderated. Keep comments relevant to the article. Remarks containing abusive and obscene language, personal attacks of any kind or promotion will be removed and the user banned. Final decision will be at the discretion of the Taipei Times.