Woody Duh named new MOEA head
RESIGNATION ACCEPTED: President Ma Ying-jeou said he respected the decision, while an economics expert said the new appointee would not improve matters
Premier Jiang Yi-huah (江宜樺) yesterday accepted Minister of Economic Affairs Chang Chia-juch's (張家祝) resignation after repeated efforts to dissuade Chang from quitting.
Jiang has appointed Deputy Minister of Economic Affairs Woody Duh (杜紫軍), who had also offered to resign, to replace Chang.
Chang is the highest-ranking official to have quit in the wake of a series of gas pipeline explosions in Greater Kaohsiung on July 31 and Aug. 1 that killed 30 people and injured 310. The explosions are believed to have been caused by a leaking underground pipe carrying propene.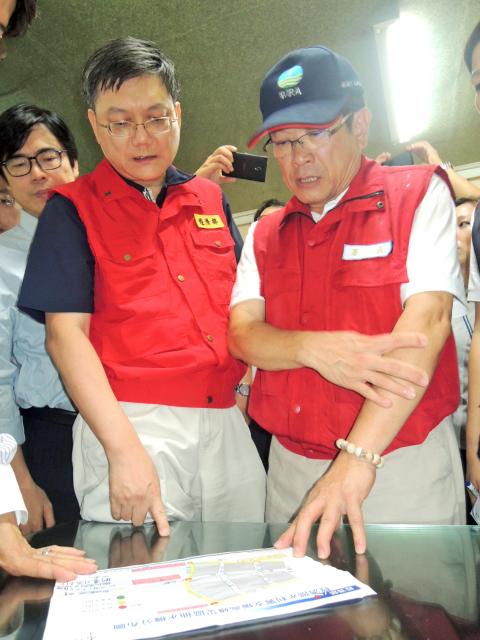 Deputy Minister of Economic Affairs Woody Duh, left, listens as Water Resources Agency Director-General Yang Wei-fu explains yesterday plans to deal with flooding in Greater Kaohsiung.
Photo: Hung Ting-hung, Taipei Times
President Ma Ying-jeou (馬英九) expressed regret over Chang's resignation, but said he respected the decision.
Ma also acknowledged Chang's contribution to the government's achievements, such as its economic cooperation agreements with Singapore and New Zealand and a service trade pact with China, Presidential Office spokeswoman Ma Wei-kuo (馬瑋國) said.
Chang, 64, tendered his resignation last week amid finger-pointing over the pipeline blasts.
Critics have blamed the Ministry of Economic Affairs (MOEA), saying its oversight of petrochemical companies has been poor.
In a public statement issued on Thursday, Chang expressed frustration over the legislative process, which he said has been hampered by the opposition's efforts to block important economic projects. This puts the nation's future in jeopardy, Chang said.
Since becoming economics minister in February last year, Chang took on a number of thorny issues, including massive public opposition to government efforts to complete the Fourth Nuclear Power Plant and to a service trade agreement with China.
The government eventually bent under the pressure of huge public protests against the agreement in March and April, putting the pact on hold, and has shelved the nearly completed plant in New Taipei City's Gongliao District (貢寮).
Commenting on Duh's appointment, National Taiwan University economics professor Kenneth Lin (林向愷) had reservations about the new arrangement.
"I do not think the appointment will help improve the economy and save lives," Lin said. "The core problem is that the government has totally lost its direction. It cannot come up with effective policies, or measures that can help solve the serious problems faced by the people and industries."
Those problems include stagnant wages, slow industrial improvements, the migration of advanced technologies and a widening wealth gap, Lin said.
Taiwan Institute of Economic Research (台灣經濟研究院) director Gordon Sun (孫明德) said he has no doubt that Duh is a well-trained professional and will have no problem instituting the government's existing polices, judging from his long experience at the ministry.
However, Sun said Duh's top priority now should be improving the ministry's communication with lawmakers and the public if the ministry wants to push through its industrial polices.
The ministry's key policies, such as striking a service trade deal with China, have met strong resistance from opposition lawmakers and the general public primarily because of poor communication, Sun said.
Additional reporting by Lisa Wang
Comments will be moderated. Keep comments relevant to the article. Remarks containing abusive and obscene language, personal attacks of any kind or promotion will be removed and the user banned. Final decision will be at the discretion of the Taipei Times.