Independence support up
RECORD HIGH: Data from three polls showed record-high support for Taiwanese independence, while one commentator attributed it to the president's policies
A poll by National Chengchi University's Election Study Center showed that a record-high 23.8 percent of respondents support Taiwanese independence, while a record-low 32.7 percent regard themselves as both Chinese and Taiwanese.
Meanwhile, 60.4 percent said they are Taiwanese, according to the poll, released on Wednesday.
The data were collected from three separate polls titled "Taiwan Independence versus Unification with the Mainland Trend Distribution in Taiwan," "Taiwanese/Chinese Identification Trend Distribution in Taiwan" and "Preferences Trend Distribution in Taiwan."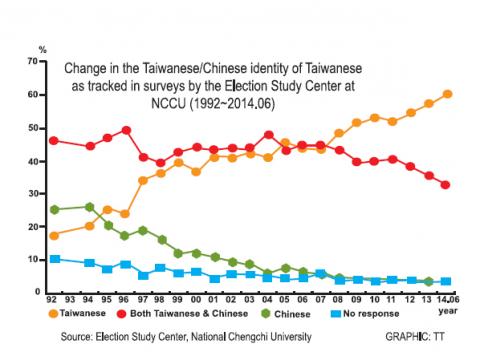 The data showed that the percentage of people who regard themselves as Taiwanese is the highest since June 1992, and those identifying themselves as solely Chinese dropped to 3.5 percent.
The number of Taiwan independence supporters and those inclined toward an immediate declaration of independence was the highest since December 1994.
Support for the Chinese Nationalist Party (KMT) reached a new low at 23.5 percent, compared with the Democratic Progressive Party's (DPP) 25.6 percent, the poll showed.
Most respondents who had once supported the KMT had taken a neutral stance and did not now support the DPP, the data showed.
Earlier this month, President Ma Ying-jeou (馬英九) criticized the Taiwan independence clause in the DPP's party charter, saying it is neither possible nor necessary to pursue independence because the Republic of China has been a sovereign state since it was established in 1912.
Fu Jen Catholic University assistant professor Chou Wei-hang (周偉航) in a recent article posted on his blog claimed Ma has come to promote independence.
The Ma administration's cross-strait policies attempting to draw Taiwanese away from ideas of independence and toward eventual unification with China have instead driven Taiwanese further from Beijing, Chou wrote in an article dated Saturday last week.
Chou's article also said that some of the more neutral cross-strait policies were affected by Ma's incompetence, adding that successful policies in Ma's terms — including increasing the number of countries allowing Taiwanese access to visa waiver programs or visas upon arrival — emphasized the difference between Taiwan and China.
No matter how much Ma would detest it, his "place in history" will be as a promoter of Taiwanese independence, Chou's article said.
Comments will be moderated. Keep comments relevant to the article. Remarks containing abusive and obscene language, personal attacks of any kind or promotion will be removed and the user banned. Final decision will be at the discretion of the Taipei Times.