Protect rights of migrant workers, flash mob urges
Foreign workers and rights advocates yesterday staged a flash mob demonstration in the lobby of the Taipei Railway Station, urging the government to extend the protection of the Labor Standards Act (勞動基準法) to all foreign workers, and calling attention to the abuse of migrant workers.
At 11:30am, a group of migrant workers from the Philippines and Indonesia, as well as rights advocates from Taiwan and Malaysia, showed up in the lobby of the Taipei Railway Station unexpectedly, dancing to Philippine music while holding signs in English that read: "Justice to all migrant workers" and "we are women, we are workers, we are not slaves."
"Ladies and gentlemen, we are here to show our support to migrant workers in Taiwan and elsewhere, to call on the government to grant equal rights to migrant and Taiwanese workers," members of Philippine workers' organization Migrante International and Indonesian workers' organization ATKI-Taiwan told onlookers drawn by the music and the dance in Mandarin and Indonesian through loudspeakers.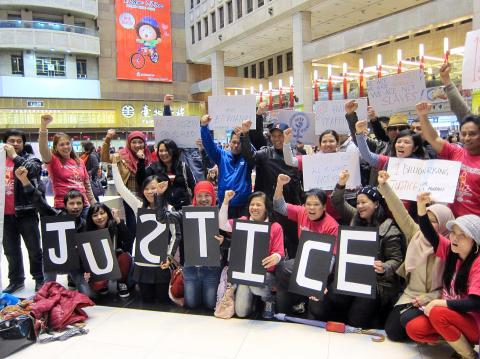 Members of ATKI-Taiwan, an association for Indonesian workers in Taiwan, and Migrante International-Taiwan Chapter, a Philippine workers' rights group, hold up signs that spell the word Justice during a protest at Taipei Railway Station yesterday as they call on Taiwanese to pay attention to migrant workers' rights.
Photo: CNA
"We also need your support in our campaign. Please join us in our action if you would, thank you very much," they added.
Event spokesman Wong Ying-dah (汪英達) said there is a globally coordinated campaign in which rights advocates are to show up unexpectedly in public places and dance to raise public awareness about women's rights on Valentine's Day.
"However, we feel that in Taiwan, foreign domestic helpers — who are mostly women — are in worse conditions, so we decided to focus the campaign on the issue of migrant workers," Wong said, adding that since this year's Valentine's Day falls on Friday and most foreign workers have to work, they decided to move the event to yesterday instead.
"Working conditions are bad for foreign domestic helpers, because they are not covered by the Labor Standards Act, so while the legal monthly minimum wage is more than NT$19,000 [US$626], foreign domestic helpers are getting only NT$15,840 — and their actual salary is lower after deductions," Wong said. "In addition, as domestic helpers, they usually have to be on standby 24 hours a day, and many of them rarely get days off."
AKIT-Taiwan president Lukman, a factory worker from Indonesia, echoed Wong, saying that one of his organization's members had only one day off a year.
"And whether you're working at someone's home or at a factory, you can only get NT$12,000 to NT$13,000 a month on average, after deductions," Lukman said. "That's why we're calling for help from the Taiwanese government."
Comments will be moderated. Keep comments relevant to the article. Remarks containing abusive and obscene language, personal attacks of any kind or promotion will be removed and the user banned. Final decision will be at the discretion of the Taipei Times.