Foiled Sochi hijack attempt was over Ukrainian prisoners
'AN INDIVIDUAL THING': A man who had claimed to have a bomb did not appear to have any links to terror groups. The crew tricked him into Istanbul
A Ukrainian man who allegedly tried to hijack a Turkey-bound commercial flight and divert it to Sochi, Russia, on the day of the Winter Olympics' opening ceremony wanted to press for the release of anti-government protesters in his country, authorities said yesterday.
Turkey's transport minister suggested the man probably acted alone and did not have any links to terror groups.
The 45-year old Ukrainian man, identified by Turkish media as Artem Hozlov, claimed he had a bomb and tried to divert a Pegasus Airlines flight, which originated in Kharkiv, Ukraine, to Sochi, Russia, on Friday.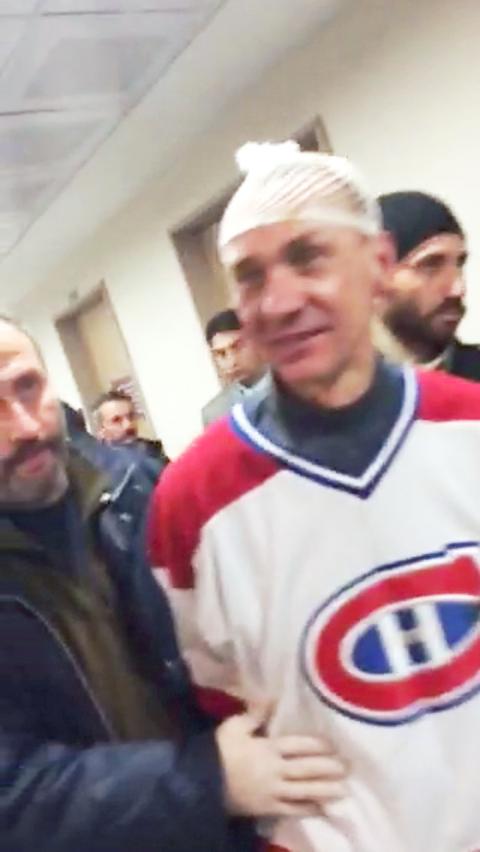 A picture captured from a video made with a mobile phone on Friday shows Artem Hozlov, right, who allegedly attempted to hijack an airliner from Ukraine, being escorted by policemen after the plane was forced down in Istanbul, Turkey.
Photo: AFP
The crew tricked him and landed the plane in Istanbul instead, where he was subdued by security officers who sneaked on board. Turkish authorities said no bomb was found.
The foiled hijacking took place as thousands of athletes from around the world poured into a tightly-secured stadium in Sochi amid warnings the Games could be a terror target.
The man was being questioned by police for possible links to terror groups, according to Turkey's state-run TRT television. It was not clear when charges would be brought.
"We think it was an individual thing," Turkish Minister of Transport Lutfi Elvan told reporters in response to questions on to whether the incident was a "terrorist" act. "It may be linked to [events in] Ukraine... Our colleagues say it is not a serious issue."
Maxim Lenko, the head of the Ukrainian Security Service's investigative division, said the Kharkiv resident wanted to divert the plane to Sochi, where Russian President Vladimir Putin and Ukrainian President Viktor Yanukovych were meeting on the sidelines of the Olympics.
"The passenger put forth the demand to free the 'hostages' in Ukraine," Lenko said, in reference to people arrested in the ongoing protests in Ukraine. "Otherwise, he threatened to blow up the plane."
Turkey's private NTV television quoting an unnamed passenger on board the plane said the man was demanding freedom for prisoners in Ukraine, as well as former Ukrainian prime minister Yulia Tymoshenko, who is Yanukovych's top foe and serving a seven-year sentence on charges of abuse of office.
Huge protests began in Ukraine when Yanukovych shelved an agreement to deepen ties with the 28-nation EU in favor of getting a US$15 billion loan from Russia. Many Ukrainians resent the long shadow Russia has cast over Ukraine.
The protests quickly expanded their grievances to calls for Yanukovych's resignation and the denunciation of police violence after the brutal dispersal of some early peaceful rallies. The demonstrations erupted into clashes last month after Yanukovych approved harsh laws against protesters. At least three protesters died in the clashes.
Comments will be moderated. Keep comments relevant to the article. Remarks containing abusive and obscene language, personal attacks of any kind or promotion will be removed and the user banned. Final decision will be at the discretion of the Taipei Times.