Professor apologizes over Deng remarks
'NOT INTENTION': A National Cheng Kung University professor apologized to the public and family of Deng Nan-jung yesterday, saying she held him in high regard
History professor Wang Wen-hsia (王文霞) at National Cheng Kung University (NCKU) yesterday apologized for her remarks this week about the late activist Deng Nan-jung (鄭南榕), but that did not stop academics and students from urging the university to name a plaza on its campus after the democracy pioneer, as students had voted to do.
In a statement issued via the school, Wang apologized twice for not being able to make herself clear on Tuesday when expressing her opposition to the plaza being named "Nan-jung Square" (South Banyan Square, 南榕廣場), "due to time constraints" and for "disturbances caused to society" by the remarks.
"I did not say that Deng Nan-jung was a terrorist. The analogy [between Deng Nan-jung and] Islamist bombers was drawn when I was talking about how people deal with problems in life," Wang said in her statement.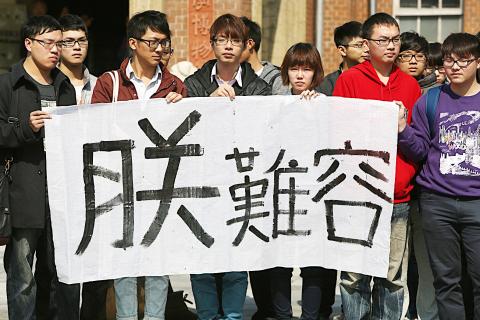 Students from National Cheng Kung University hold up a sign during a protest against the university's School Affairs Committee's decision not to name a plaza on campus "Nan-jung Square" in honor of the late democracy activist Deng Nan-jung because of the political connotations. The text, which is a homophone to Deng's name, ridicules the university's arbitrary decision, reading: "The emperor finds it [the decision] intolerable."
Photo: CNA
Wang said she meant to say young people must work hard and treasure life when facing hardship, since "I do not approve of coping with life's challenges in such a radical way."
The professor, specializing in 19th century and 20th century European history, said she held Deng and many other people in very high regard for their various contributions to Taiwan's democratic development and had no intention to vilify Deng.
Wang said she did not look at the "political dimensions" of Deng's self-immolation, but examined them from the perspectives of "education" and "respect for life."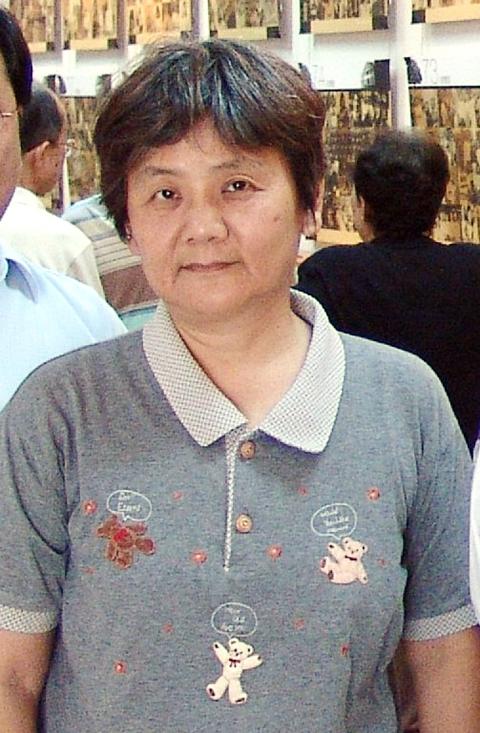 Wang Wen-hsia, professor of history at National Cheng Kung University, is pictured on campus in Greater Tainan on Thursday.
Screen grab from National Cheng Kung University's Web site
"Mr Deng has an assured place in the history of Taiwan's democratic movement. I didn't have any intention to deny his contribution at all," she said.
In a second statement, Wang said she sincerely apologized to Deng Nan-jung's widow, Yeh Chu-lan (葉菊蘭), and daughter, Deng Chu-mei (鄭竹梅).
Wang said her remarks have hurt them.
At Tuesday's meeting of the university's School Affairs Committee, student and teacher representatives voted 70-21 in favor of not naming the plaza at all, overruling a vote in November last year in which 3,500 students, faculty members and staff chose to name it "Nan-jung Square" in honor of Deng Nan-jung, who set himself alight on April 7, 1989, in defense of freedom of expression.
Wang's denials about the analogy of Islamic bombers and the way she perceived Deng Nan-jung's contribution to Taiwan's democratization process were contradicted by the transcript of her remarks provided by a student club, 02 Group (零二社).
The transcript, along with a video recording of Wang's remarks, was uploaded online.
Later yesterday, Deng Chu-mei issued a statement in response to Wang's statements.
The 34-year-old said her father had been a person who had respect for life, loved life and was enthusiastic about life.
"We enjoyed reading Doraemon whenever there was a new edition and were eager to find out what kinds of gadgets Doraemon pulled from its pocket. We often went to a book rental store picking up novels by [Japanese novelist] Jiro Akagawa," she said.
Deng Chu-mei said that while her father never taught her how to deal with life's challenges, he had encouraged her to think independently.
"We live on the same island. We need to understand each other better, so we can have a better future. It's nothing but politics to look at life and history, not a political dimension," Deng Chu-mei said.
"No matter what the plaza is named or whether it is not named, what they say or do along the way is a challenge for everyone," she said.
She invited Wang, members of the School Affairs Committee, historians, education workers and people interested in related issues to visit the Deng Liberty Foundation to exchange views.
"Life is precious, we shall never give it up easily. Neither did my father," she said.
Earlier yesterday, a group of students from several of the university's students clubs issued a joint statement saying they would have a ceremony to formally name the plaza "Nan-jung Square" when the new semester begins.
More than 200 students yesterday staged a really on campus, demanding an apology from National Cheng Kung University President Hwung Hwung-hweng (黃煌煇).
They said the executives of the school lacked the spirit of a university and democracy, and ridiculed the university's arbitrary decision not to name the plaza by unfurling a white banner with text, a homophone to Deng's name, reading: "The emperor finds it [the decision] intolerable (朕難容)."
Meanwhile, representatives of the Taiwan Association of University Professors and the Ding-nan Chen Education Foundation called a press conference in Taipei demanding that the school name the plaza Nan-jung Square in accordance with the November vote.
"The naming incident showed there is still a long way to go to achieve the goal Deng Nan-jung had pursued: 100 percent freedom of expression," professor of history at Fu Jen University Chen Chun-kai (陳君愷) said.
"We miss him so much," he added.
Comments will be moderated. Keep comments relevant to the article. Remarks containing abusive and obscene language, personal attacks of any kind or promotion will be removed and the user banned. Final decision will be at the discretion of the Taipei Times.