Jiang seeks to boost tourism numbers to 10 million
Premier Jiang Yi-huah (江宜樺) yesterday proposed a blueprint to turn Taiwan into a "tertiary industry-based country" that can attract more than 10 million international tourists a year over the next decade.
"Where there is the will, we can make it," Jiang said, citing a recent policy revision that he said helped bring the annual foreign visitor number to a record 8 million on the last day of last year.
Jiang was referring to the increase in the daily quota for free independent Chinese travelers from 2,000 to 3,000 that began on Dec. 1 last year.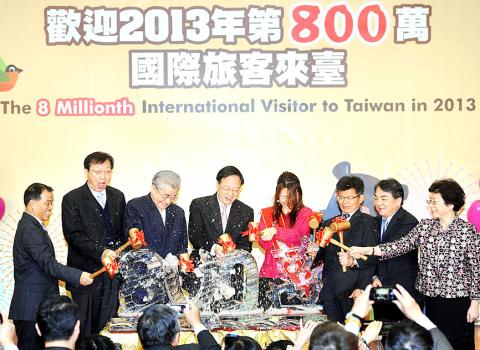 Premier Jiang Yi-huah, fourth left, leads a celebration at the Executive Yuan in Taipei yesterday following the arrival of the 8 millionth international visitor to Taiwan last year, together with the Japanese winner, Aya Omote, and her husband.
Photo: CNA
A National Immigration Agency official said that Jiang had decided to raise the quota at meeting in November last year, during which officials estimated arrivals of foreign visitors for last year could fall about 100,000 short of 8 million.
The Executive Yuan yesterday held a reception for Aya Omote of Japan, who arrived in Taipei on Sunday with her husband for their honeymoon and was identified as the nation's 8 millionth international visitor last year.
The couple were given NT$500,000 worth of gifts from local businesses, including several round-trip air tickets between Taiwan and Japan, hotel accommodation, a tablet computer and souvenirs.
According to the Tourism Bureau, China, Japan, and Hong Kong and Macau ranked as the three largest sources of overseas arrivals, accounting for 36.5 percent (2.634 million), 17.7 percent (1.279 million) and 14.7 percent (1.06 million) respectively.
As of November, Taiwan had received 307,000 tourists from South Korea last year, a 30.8 percent annual increase, thanks in part to Grandpas Over Flowers, a South Korean TV series documenting four senior citizens' travels abroad, including in Taiwan, a Tourism Bureau official said by telephone.
In terms of year-on-year growth in arrivals, South Korea was followed by Malaysia and then Hong Kong and Macau, which showed an increase of 15.6 percent and 15.5 percent respectively, the official said.
The bureau's data showed that Taiwan remained a less popular destination for travelers from Europe and the US.
Compared with the same period from January to November 2012, the number of tourists grew by 1.6 percent last year, while the number of US visitors decreased by 0.1 percent, the data showed.
Minister of Transportation and Communications Yeh Kuang-shih (葉匡時) attributed the growth, at the rate of 1 million per year since 2009, to President Ma Ying-jeou's (馬英九) cross-strait policies, which he said have raised Taiwan's international visibility.
Jiang urged all government agencies to work hard to build Taiwan as a tourism destination for medical care, culture and leisure to achieve the target of 9 million foreign visitors this year.
Comments will be moderated. Keep comments relevant to the article. Remarks containing abusive and obscene language, personal attacks of any kind or promotion will be removed and the user banned. Final decision will be at the discretion of the Taipei Times.