Thai government refuses to delay elections
Thailand's government yesterday rejected calls to postpone February elections after clashes between police and opposition protesters in the capital left one policeman dead, and dozens wounded on both sides.
The new outbreak of civil strife deepened the crisis facing Thai Prime Minister Yingluck Shinawatra, whose government has been shaken by weeks of mass street rallies seeking to curb her family's political dominance.
Police fired tear gas and rubber bullets yesterday at rock-throwing demonstrators who tried to force their way into a sports stadium in the capital where election candidates were gathered to register for the Feb. 2 polls.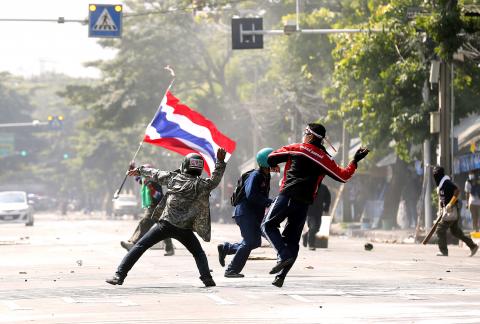 Thai anti-government protesters hurl rocks at police officers yesterday during clashes with police at Thai-Japanese sports complex, a venue for election candidacy drawing ballot sheet numbers for the upcoming national poll in Bangkok, Thailand.
Photo: EPA
The protesters — who want to overthrow Yingluck's government and install an unelected "people's council" in its place — accuse billionaire tycoon-turned-politician former Thai prime minister Thaksin Shinawatra — Yingluck's older brother — of corruption and say he controls his sister's government from his base in Dubai.
Nearly 100 people from both sides were injured, according to the emergency services.
Twenty-five police officers were hospitalized, with 10 in serious condition, according to a police spokesman. One police officer died of a gunshot wound.
As the violence escalated, the Election Commission recommended the February polls be delayed indefinitely.
"We cannot organize free and fair elections under the constitution in the current circumstances," said commission member Prawit Rattanapien, who along with other vote officials had to be evacuated from the Bangkok stadium by helicopter.
However, the government rejected the proposal, saying it would not solve the bitter standoff.
"The government believes delaying an election will cause more violence," Thai Deputy Prime Minister Phongthep Thepkanjana said in a televised address to the nation.
Comments will be moderated. Keep comments relevant to the article. Remarks containing abusive and obscene language, personal attacks of any kind or promotion will be removed and the user banned. Final decision will be at the discretion of the Taipei Times.