Lawmaker, lawyer accuse Ma of leaks and collusion
President Ma Ying-jeou (馬英九) was involved in leaks of secrets and collusion with Prosecutor-General Huang Shih-ming (黃世銘) in their meetings and telephone calls both before and after the Supreme Prosecutors' Office Special Investigation Division (SID) accused Legislative Speaker Wang Jin-pyng (王金平) of improper lobbying, Democratic Progressive Party (DPP) Legislator Chen Chi-mai (陳其邁) and lawyers said yesterday.
In an interview yesterday, Ma said he met with Premier Jiang Yi-huah (江宜樺) and then-Presidential Office deputy secretary-general Lo Chih-chiang (羅智強) on Aug. 31, after being briefed by Huang about Wang's alleged violations earlier the same day.
The meeting came six days before the SID's press conference on Sept. 6, at which it accused Wang of improper lobbying.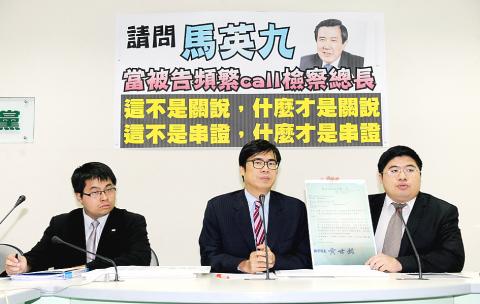 Democratic Progressive Party Legislator Chen Chi-mai, center, and two lawyers yesterday accuse President Ma Ying-jeou of leaking secrets and collusion with Prosecutor-General Huang Shih-ming.
Photo: Lo Pei-der, Taipei Times
Ma's meetings with Huang were criticized as violating the confidentiality of an ongoing investigation and being part of a conspiracy by Ma to remove Wang from his position as legislative speaker.
Lawyer Huang Di-ying (黃帝穎) filed a complaint against Ma and Huang Shih-ming to the SID on Sept. 9 over the leak, but the SID closed the investigation into Ma on Sept. 27.
Noting Ma's remarks in the interview that he had talked to Huang Shih-ming by telephone several times after Sept. 6, Chen said the SID's dismissal of the case against Ma only 18 days after receiving the complaint, and without summoning Ma and Huang Shih-ming for questioning, was "outrageous."
Ma and Huang Shih-ming had committed obvious collusion with their telephone conversations after Sept. 6 as both were listed as defendants in the case, Chen said.
A president should not talk to a prosecutor-general about a specific case, Chen added.
"If Wang [Jin-pyng] had crossed a judicial red line with his alleged lobbying, to quote Ma, has Ma crossed that red line as well?" Chen asked.
There is another reason that Ma should have never have contacted the prosecutor-general in person — investigations of several cases involving the president were also ongoing, Huang Di-ying said.
Ma is listed as defendant in cases of property crimes of unknown origin, illegal wiretapping, leaks of secrets and cases related to the Chinese Nationalist Party's (KMT) assets and the Dreamers (夢想家) rock musical in 2011, the lawyer said.
"A defendant should not contact a prosecutor at any time," Huang Di-ying said.
If Ma and Huang Shih-ming had colluded over the telephone, Ma's agreement to directly confront Huang Shih-ming in court is meaningless, he said, adding that was why Ma should pledge to take a polygraph test to see whether he was aware of the probe before Aug. 31.
Comments will be moderated. Keep comments relevant to the article. Remarks containing abusive and obscene language, personal attacks of any kind or promotion will be removed and the user banned. Final decision will be at the discretion of the Taipei Times.