Justice minister queries legality of legislative motion
Minister of Justice Lo Ying-shay (羅瑩雪) yesterday said that the resolution adopted on Monday by a legislative committee that all cases being probed by the Supreme Prosecutors' Office Special Investigation Division (SID) be suspended and the division not investigate any new cases was "legitimately questionable."
"This was a serious matter" and thus "was not for me to decide," Lo said in response to media queries on whether the ministry would follow the resolution.
The resolution would destroy the judicial system because the SID is an legitimate institution based on the Organic Act of Court Organization (法院組織法), she said.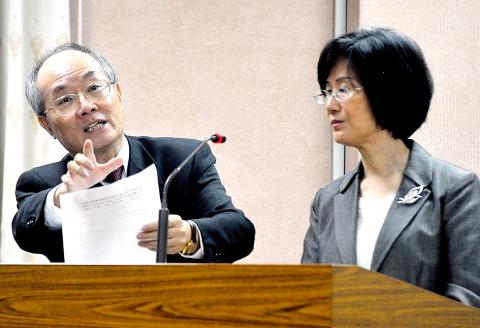 Prosecutor-General Huang Shih-ming, left, and Minister of Justice Lo Ying-shay present a report at the legislature on Monday on the activities of the Supreme Prosecutors' Office Special Investigation Division.
Photo: Chien Jung-fong, Taipei Times
Lo said she questioned whether the Judiciary and Organic Laws and Statutes Committee's resolution could override the law by ordering the SID to halt operations.
The committee's motion, which passed by a 4 to 3 vote, said the SID should turn its active cases over to regular prosecutors and stop taking new cases.
The committee has nine members, but its convener, Chinese Nationalist Party (KMT) Legislator Lu Hsueh-chang (呂學樟), did not vote because he can only vote in case of a tie.
Four of the members are KMT lawmakers and four are from the opposition. KMT Legislator Hsieh Kuo-liang (謝國樑) abstained rather than follow the party line and vote against the motion.
Hsieh said it made sense for the SID to stop handling cases for the time being because of the controversy over its operations.
If the SID were to handle highly sensitive cases, the results of its investigations would not be very credible, he said.
The committee also passed a motion to set up a task force to investigate the SID's wiretapping activities that first exposed alleged improper lobbying by Legislative Speaker Wang Jin-pyng (王金平).
Comments will be moderated. Keep comments relevant to the article. Remarks containing abusive and obscene language, personal attacks of any kind or promotion will be removed and the user banned. Final decision will be at the discretion of the Taipei Times.