Mass protests planned for today
Activist groups and civic organizations plan to take to the streets for a major anti-government protest in Taipei today, which will culminate in the evening with the occupation of the roadway plaza in front of the Presidential Office.
Organizers said they expect up to tens of thousands of participants to show up to denounce what they described as the political wrangling and abuse of power by President Ma Ying-jeou (馬英九).
Protesters will assemble on Ketagalan Boulevard starting at 4pm.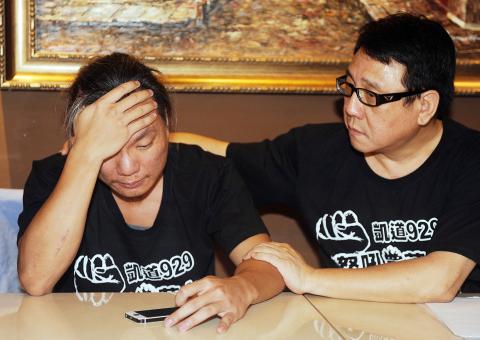 Yang Tzu-kuang, left, the son of Liu Chin-yih, a taxi driver who recently committed suicide by jumping off a bridge on Yangmingshan in Taipei, is comforted at a press conference yesterday by Ge Shu-ren, the organizer of an anti-government demonstration scheduled to take place today.
Photo: Liao Chen-huei, Taipei Times
The groups are calling on all citizens "to join the rally and express your anger at Ma, to save Taiwan" for the Sept. 29 anti-Ma protest. There will be a counterpart anti-government demonstration in Greater Kaohsiung today.
Groups representing youths, students, women, labor and civil society organizations will take part in the protest.
Yang Tsu-kuang (楊子廣), son of the debt-ridden taxi driver Liu Chin-yi (劉進義), who committed suicide two weeks ago, reportedly out of frustration at Ma's mishandling of the national economy, urged people to join today's protest.
"All citizens should stand up to express their anger at those in power. It is these men, who have the power to change the current situation, who have ignored what is happening to our society, and this led to my father's suicide. Although I cannot change society, I will get back at those who hold political power," Yang said.
The date was chosen because the Chinese Nationalist Party (KMT) had been scheduled to hold its 19th National Congress at the Sun Yat-sen Memorial Hall in Taipei that day. The KMT later postponed the congress and changed the venue, likely to Chungshan Hall on Yangmingshan on Oct. 26, saying it was doing so out of concern for public safety.
However, activists said the anti-government protest would still go ahead today.
The activities will begin in the morning with the "Alliance for Citizen Actions to Oust Ma" groups to gather near the official presidential residence, on Chongching S Road Sec. 2.
In the afternoon, starting at 1 pm at the Sun Yat-sen Memorial Hall, the National Alliance for Workers of Closed Factories (全國關廠工人連線) is organizing a "Shoe-In" action, in which shoes and slippers will be thrown into a pile.
A foot race will be held at 3pm to mock Ma "running scared and hiding from the people."
"Besides workers, activists against urban renewal projects and land expropriations, as well as some of the victims of such projects will take part," alliance spokeswoman Chen Hsiu-lien (陳秀蓮) said.
The various groups will assemble at Ketagalan Boulevard at 4pm for the main evening rally, which is to be convened by Ge Shu-ren (葛樹人) and other media personalities.
The rally to call on Ma to step down will have a series of activities and invite each demonstrator to speak give their views for one minute throughout the course of the evening.
"We need a positive force to uplift our society. I call on those who are fed up with the political system and dissatisfied with our political leaders to join us and let them know your anger," Ge said.
Authorities said police would provide traffic control and security measures at areas around the Sun Yat-sen Memorial Hall and Ketagalan Boulevard, while requesting the public to be aware of the protest and road closures.
Comments will be moderated. Keep comments relevant to the article. Remarks containing abusive and obscene language, personal attacks of any kind or promotion will be removed and the user banned. Final decision will be at the discretion of the Taipei Times.