White Wolf held, released on bail
TUMULTUOUS RETURN: Chang An-le's lawyers quoted him as saying that he wanted to prove his innocence before the justice system and further pursue his political charity effort
Former gang leader and wanted fugitive Chang An-le (張安樂), also known as the "White Wolf," was released on NT$1 million (US$32,870) bail a few hours after his return to Taiwan from China yesterday.
Police handcuffed the 65-year-old as soon as he stepped off an Air China plane yesterday at Taipei International Airport (Songshan airport), where nearly 600 officers, including SWAT team members, had been waiting for several hours.
Chang, who flew in from Shanghai after 17 years on the run, smiled and looked relaxed while being escorted by policemen through security inspections at the airport.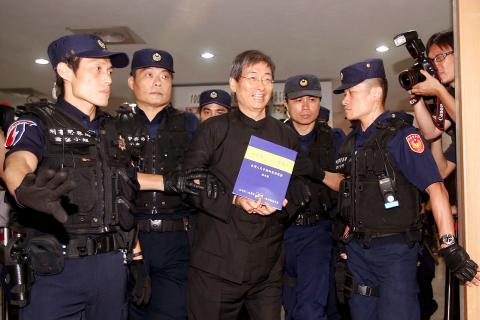 Former Bamboo Union leader Chang An-le, also known as the White Wolf, holds up a pamphlet with the title "Peaceful unification. One country, two systems" as he is detained upon his arrival at Taoyuan International Airport yesterday.
Photo: CNA
He was taken directly to the Taipei District Prosecutors' Office after clearing immigration.
Chang, who had been on Taiwan's most-wanted list for alleged violations of the Organized Crime Prevention Act (組織犯罪防制條例) since fleeing to China in 1996, is barred from leaving Taiwan, the Taipei District Prosecutors' Office said.
Members of the Unionist Party, which Chang had founded while he was hiding in China, and of the triad he helped lead in his younger days — the Bamboo Union — showed up outside the airport to "welcome back the president of the Unionist Party."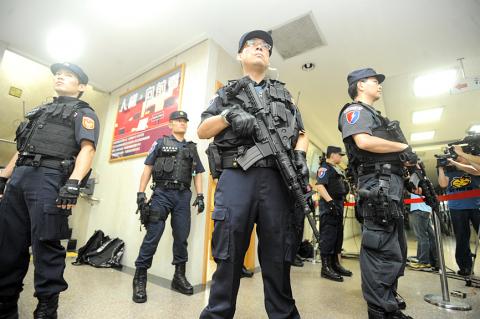 Police are awaiting the arrival of former Bamboo Union leader Chang An-le, also known as the White Wolf, on a flight from Shanghai at Taoyuan International Airport yesterday.
Photo: Wang Yi-sung, Taipei Times
The police had issued a permit for a rally to be held just outside the airport.
Chang carried a leaflet advocating "peaceful unification" and "one country, two systems."
During his years in China, Chang pursued a business career, and founded the Unionist Party in Taiwan.
"No matter how long they put me in jail for, I'll be free eventually," he told a Chinese newspaper earlier this month. "Then I'll continue my political charity work."
Chang's lawyers, Yu Ying-ta (杜英達) and Chang Li-yeh (張立業), went to Shanghai on Friday to meet Chang and accompanied him on the flight.
Chang Li-yeh said that most other suspects in the investigations involving Chang An-le had been either released or found not guilty.
The lawyers quoted Chang An-le as saying that he wanted to prove his innocence before Taiwan's justice system, adding that he had not negotiated with the Ministry of Justice for his return.
Chang An-le is most famous for his role in the 1984 Henry Liu (劉宜良) case.
Liu, a naturalized US citizen, wrote an unauthorized and unflattering biography of then-president Chiang Ching-kuo (蔣經國) under the pen name Chiang Nan (江南).
Liu was gunned down in his home in Daly City, California, by two of Chang's fellow triad members, allegedly on the orders of the chief of Taiwan's military intelligence at the time.
Chang, who was living in California, did not take part in the assassination, but made public a tell-all tape recorded by the two hitmen after they were arrested upon their return to Taiwan.
Chang was subsequently placed under arrest on drug-related charges and sentenced to 15 years in a US prison.
He ended up serving two-thirds of the term, during which he earned two college degrees, arguably making him the best-educated of Taiwan's gangsters.
Chang returned to Taiwan after being released from prison and was accused of playing an active role in the Bamboo Union, which allegedly made huge profits by setting up companies and winning lucrative business contracts by scaring away competing firms.
Comments will be moderated. Keep comments relevant to the article. Remarks containing abusive and obscene language, personal attacks of any kind or promotion will be removed and the user banned. Final decision will be at the discretion of the Taipei Times.