Russia rejects US request for Snowden's extradition
US intelligence leaker Edward Snowden yesterday spent a fourth day at a Moscow airport, with his onward travel plans still a mystery after Russian President Vladimir Putin rejected calls for his extradition to the US.
The US told Russia it has a "clear legal basis" to expel Snowden, but anti-secrecy Web site WikiLeaks, which helped organize his flight from Hong Kong, said he risks being stuck in Russia "permanently."
Meanwhile, Venezuelan President Nicolas Maduro, who by coincidence is expected in Moscow next week for an energy summit, said Caracas would consider any asylum request from Snowden, just as Ecuador is doing.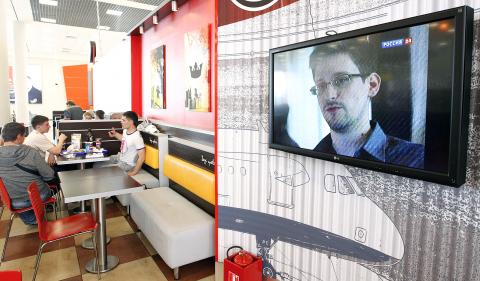 A television screen shows former U.S. spy agency contractor Edward Snowden during a news bulletin at a cafe at Moscow`s Sheremetyevo airport Wednesday. Russian President Vladimir Putin confirmed on Tuesday a former U.S. spy agency contractor sought by the United States was in the transit area of a Moscow airport but ruled out handing him to Washington.
Photo: Reuters
In his first comments on the chase for the former contractor, which has captivated world attention, Putin on Tuesday confirmed that Snowden had arrived in Moscow, but said he had never left the airport's transit zone.
"He arrived as a transit passenger. He did not cross the state border," Putin said at a news conference in Finland on Tuesday.
"For us, this was completely unexpected," he added.
"Mr Snowden is a free man; the sooner he selects his final destination point, the better for us and for himself," he said.
Snowden, who leaked revelations of massive US surveillance programs to the media, had been expected to board a flight for Cuba on Monday, reportedly on his way to seek asylum in Ecuador. However, he never did and Putin hinted that his onward travel plans were still unknown. His US passport has been canceled, but WikiLeaks says he left Hong Kong with a refugee document supplied by Ecuador.
"Canceling Snowden's passport and bullying intermediary countries may keep Snowden permanently in Russia," WikiLeaks said in a statement on Twitter.
The US urged Russia to use all means to expel Snowden, who arrived at Moscow's Sheremetyevo Airport on a flight from Hong Kong on Sunday, despite the US issuing a request for his arrest in China.
However, Putin insisted that Russia could not extradite Snowden because it has no extradition agreement with the US.
Putin said he would prefer not to deal with cases such as those of Snowden and WikiLeaks editor-in-chief Julian Assange, who is holed up in Ecuador's embassy in London to avoid allegations of sexual assault in Sweden.
"It's the same as shearing a piglet: There's a lot of squealing and not much wool," he said.
Comments will be moderated. Keep comments relevant to the article. Remarks containing abusive and obscene language, personal attacks of any kind or promotion will be removed and the user banned. Final decision will be at the discretion of the Taipei Times.