Ma joins world leaders at pope's inauguration
SEEN AT THE HOLY SEE: Prior to the Mass, the first couple hosted a dinner for clergy and Taiwanese living in Italy to celebrate ties with Taiwan's sole European ally
President Ma Ying-jeou (馬英九) yesterday stood among his counterparts from other countries in St Peter's Square to attend Pope Francis' inauguration Mass.
Ma and first lady Chow Mei-ching (周美青) sat in one of the rows reserved for heads of state. On Ma's right was Costa Rican President Laura Chinchilla, while Chilean President Sebastian Pinera was on Chow's left.
Aside from the five-person Taiwanese delegation led by Ma, others in the VIP section included German Chancellor Angela Merkel, US Vice President Joe Biden, Argentine President Cristina Fernandez, Zimbabwean President Robert Mugabe, Prince Albert of Monaco and Bahraini Prince Sheik Abdullah bin Hamad bin Isa Al Khalifa.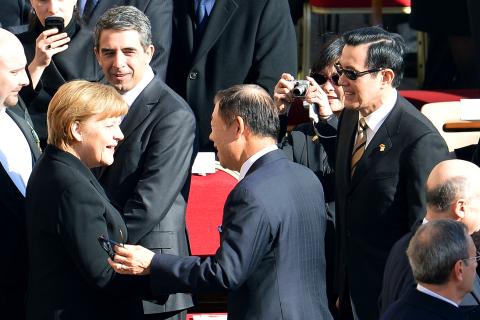 German Chancellor Angela Merkel, left, President Ma Ying-jeou, right, and other officials attend Pope Francis' inauguration yesterday at St Peter's Square in the Vatican City.
Photo: AFP
Prior to the ceremony, Ma was seen having a brief exchange with other heads of state, including Merkel and Biden.
After the Mass, Ma and Chow offered their congratulations to Francis during a brief audience.
The Vatican is Taiwan's only diplomatic ally in Europe. The two countries have maintained diplomatic ties since 1942.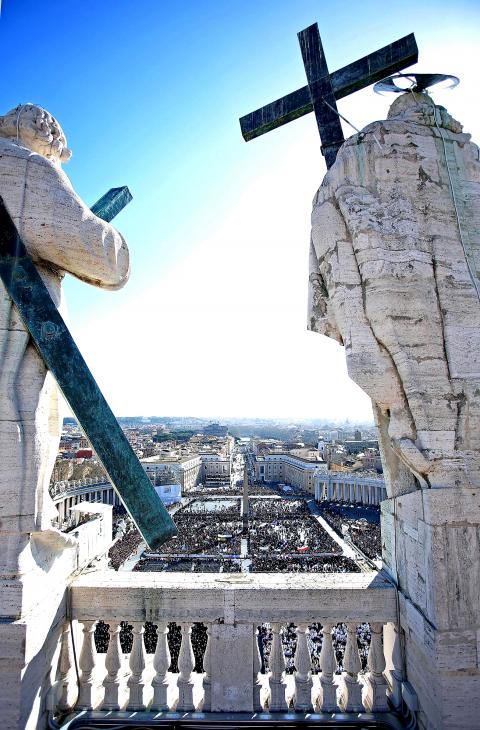 St Peter's Square is pictured during the installation Mass of Pope Francis in Vatican City yesterday.
Photo: EPA
Ministry of Foreign Affairs deputy spokesman Calvin Ho (何震寰) said that while the purpose of Ma's visit was to attend the inaugural Mass, he would not rule out unofficial interaction with other world leaders, especially since Ma is staying at the same hotel as many of them.
The first couple arrived in Rome on Monday and toured the Vatican Museums and St Paul's Cathedral before visiting the Taipei Representative Office in Italy. In the evening, Ma and the first lady hosted a dinner for the clergy and Taiwanese expatriates living in Italy, as well as for a Catholic delegation from Taiwan.
Ma said that the Republic of China and the Holy See have long cooperated in religious and humanitarian fields, adding that bilateral ties are progressing continually.
The last time a Taiwanese president visited the Vatican was in 2005, when then-president Chen Shui-bian (陳水扁) attended the funeral of pope John Paul II.
At the time, an incensed Beijing refused to send a representative to the funeral and filed a protest with Italy for issuing Chen a visa.
This time, China appeared to again be boycotting the inauguration because of Taiwan's presence, but the Vatican has emphasized it did not send out specific invitations to any countries.
"No one is privileged, no one is refused, everyone is welcome if they say they are coming," Vatican spokesman Federico Lombardi said.
Li Xiaoyong, spokesman for the Chinese embassy in Rome, said: "There will be no delegation from China. China has expressed its congratulations."
Bernardo Cervellera, the Rome director of AsiaNews, said the Chinese reaction was "like a broken record — it masks the fact that they do not really know what to do."
Comments will be moderated. Keep comments relevant to the article. Remarks containing abusive and obscene language, personal attacks of any kind or promotion will be removed and the user banned. Final decision will be at the discretion of the Taipei Times.