Kerry commits to Taiwan's defense
REGIONAL STABILITY: Supplying Taiwan with adequate defense is in line with the Taiwan Relations Act and the US' 'one China' policy, the new US state secretary said
The US will continue its commitment to Taiwan and will help Taiwan maintain adequate defense capability, US Secretary of State John Kerry said recently in response to questions from the Senate.
Kerry added that Washington would continue to support Taiwan's bid for meaningful participation in international bodies, such as the International Civil Aviation Organization (ICAO).
The US Department of State will work with the international community to help with Taiwan's participation in the ICAO, Kerry said in his response to questions submitted by Robert Menendez, chairman of the US Senate Foreign Relations Committee.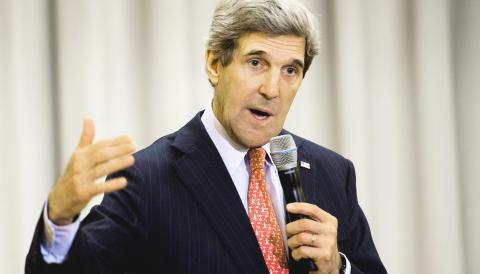 US Secretary of State John Kerry delivers remarks to a foreign policy classroom at the State Department in Washington, highlighting his key objectives, as he begins his duties as secretary on Thursday.
Photo: AFP
The US will also encourage other UN agencies and global organizations to expand opportunities for Taiwan to participate in their technical and specialist meetings, Kerry said.
He also reaffirmed that the US would help Taiwan maintain adequate self-defense.
He firmly reiterated the US' support for Taiwan, in response to questions on the Taiwan Relations Act (TRA) and the "six assurances" submitted by Republican Senator Bob Corker and Democratic Senator Ben Cardin, both members of the foreign relations committee.
Supplying Taiwan with weapons to maintain adequate defense capability is in line with the TRA and the US' "one China" policy, Kerry said. These long-existing policies have contributed to peace and stability in the Taiwan Strait, he added.
Commenting on the exchange, Representative to the US King Pu-tsung (金溥聰) expressed gratitude for the senators' concern for Taiwan's international participation and said he hoped that the US Congress would continue its close cooperation with Taiwan.
The Taipei Economic and Cultural Representative Office in the US also welcomed Kerry's support for Taiwan's bid to participate in the ICAO and his commitment to Taiwan's security. The office said it looks forward to cooperating with Kerry's team to further expand Taiwan's international participation and advance Taipei-Washington ties.
The TRA, enacted in 1979 after the US severed diplomatic ties with Taiwan in favor of China, obliges the US to help Taiwan defend itself.
In 1982, then-US president Ronald Reagan offered Taiwan six assurances, which included a promise that the US would not set a date for termination of arms sales to Taiwan.
Kerry, a former head of the Senate Foreign Relations Committee, succeeded Hillary Rodham Clinton as secretary of state on Feb. 1.
Comments will be moderated. Keep comments relevant to the article. Remarks containing abusive and obscene language, personal attacks of any kind or promotion will be removed and the user banned. Final decision will be at the discretion of the Taipei Times.