KMT endorses Ma's chairmanship bid
LONE VOICE: The only KMT member to oppose the re-election bid at a party meeting yesterday said doubts over a legally stipulated two-term limit should be clarified first
President Ma Ying-jeou (馬英九) was deemed eligible to run for the Chinese Nationalist Party (KMT) chairmanship again following a motion passed by the KMT Central Standing Committee yesterday, accompanied by a round of applause.
In the face of the recent controversy over Ma's eligibility to be re-elected as party chairman, the committee's meeting yesterday appeared to be more of a gathering for swearing allegiance to Ma, becuase nearly all of the participants defended Ma's eligibility to run for re-election.
The only voice of dissent at the meeting came from committee member Lee Wei-te (李維德), who suggested that the KMT headquarters request an interpretation from the Ministry of the Interior to clarify doubts over the two-term limit imposed on leaders of civil organizations — including political parties — stipulated by the Civil Associations Act (人民團體法).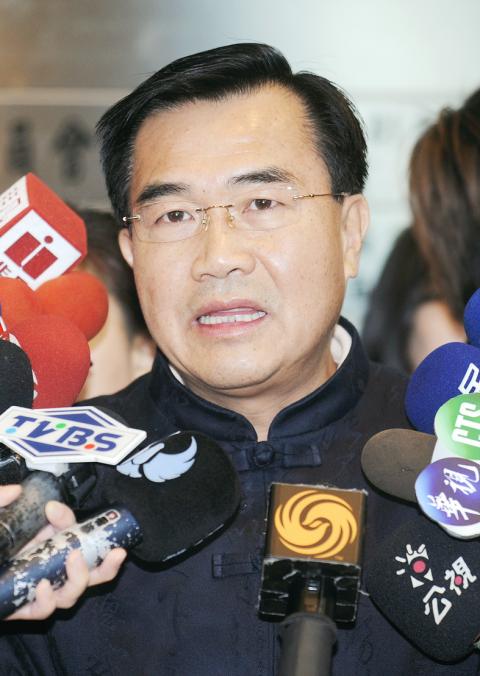 Lee Chuan-chiao, a member of the Chinese Nationalist Party (KMT) Central Standing Committee, yesterday tells reporters in Taipei that he does not support President Ma Ying-jeou's bid to run for the party chairmanship again.
Photo: Liao Chen-huei, Taipei Times
"The party headquarters should have a legal basis on which to support its definition that a term as chairmanship is only counted when the elected person has served more than half of the full tenure, instead of just relying on intra-party consensus," Lee said.
Despite Lee's opposition, committee members approved an ad hoc motion tabled by KMT Legislator Huang Chao-shun (黃昭順) saying that Ma's re-election bid was legitimate.
Ma was elected KMT chairman in 2005, but resigned in 2007 when he was embroiled in a corruption case for allegedly misusing his special allowance fund during his tenure as Taipei mayor.
The post was taken over by Wu Poh-hsiung (吳伯雄), who served as party chairman until 2009. Ma was found not guilty of graft charges in 2008 and re-elected as party chairman in 2009.
Earlier yesterday, KMT spokesman Yin Wei (殷瑋) brushed off a media report alleging that Ma had cited the 1951 Amendment to the US Constitution and the Democratic Progressive Party's (DPP) charter at a party meeting on Tuesday in Zhongshan to discuss the president's bid to be re-elected as KMT chairman.
"The report is a pure fabrication and violates journalistic ethics," Yin said.
Yin was referring to a report published by the Chinese-language United Daily News yesterday, alleging that the president had made the comments in a solemn tone at the three-hour meeting in an apparent effort to justify his eligibility to be re-elected.
The report added that Ma had first cited the 22nd Amendment to the US constitution, which stipulates that: "No person shall be elected to the office of the President more than twice and no person who has held the office of President, or acted as President, for more than two years of a [four-year] term … shall be elected to the office of the President more than once."
Ma apparently then quoted the DPP's charter, which stipulates that the party chairman be elected in a vote by all party members for a two-year term and may serve a second term at maximum, the report said.
"If a chairman with less than a year remaining in his term leaves his post, then the [DPP's] Central Executive Committee should select one of its members to serve as the acting chairman. In the event where there is more than a year remaining in a chairmanship term, all party members should vote to elect a new chairman," Ma was quoted by the report as saying.
For both US presidents and DPP chairmen, terms are only counted if the post-holder has completed more than half of their full tenure, Ma was quoted as saying in the report.
The president reportedly said that since he did not serve more than half of his first four-year chairmanship due to the corruption case and Wu was chosen to serve as the new chairman for the remainder of the term in 2007, then his first tenure as KMT chairman should be counted as between 2009 and this year.
Ma's alleged effort to cement his re-election bid by citing US constitutional and DPP regulations has triggered criticism from both DPP legislators and his party comrades.
DPP Legislator Tsai Chi-chang (蔡其昌) yesterday said the president had clearly let power go to his head, as evidenced by his challenging of the nation's legal system and his desperate attempt to cling to the party chairmanship by referencing legislation of foreign countries.
"Taiwan could be put in a worse situation if Ma wins another term as KMT chairman. I advise Ma to fulfill his duties as president and focus on national affairs," Tsai said.
DPP Legislator Wu Ping-jui (吳秉叡) said Ma may have developed a "phobia of losing power," since it was this fear of relinquishing control that had spurred him into making such a concerted effort to safeguard his KMT leadership.
KMT Legislator Alex Tsai (蔡正元) said that the US constitution and the DPP charter could not be used to legally justify Ma's re-election.
"Compared with the Civil Associations Act and the Local Government Act (地方制度法) that spring from the same legal system as the KMT's charter, the US constitution and DPP regulations are so completely different that they could hardly help Ma argue a legal justification," he said.
KMT Legislator Lo Shu-lei (羅淑蕾) said that since eligibility for re-election has more to do with the KMT's charter than any other set of regulations, the party headquarters should try to perfect the charter so it can be used to legally support Ma's bid, instead than making references to irrelevant documents.
Comments will be moderated. Keep comments relevant to the article. Remarks containing abusive and obscene language, personal attacks of any kind or promotion will be removed and the user banned. Final decision will be at the discretion of the Taipei Times.